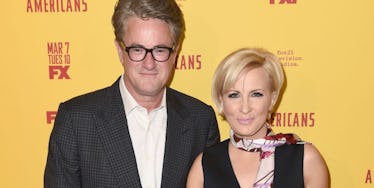 Trump "Asked 10 Times" For The Name Of Mika's Skin Doctor, Joe Scarborough Said
Nicholas Hunt/Getty Images
Morning Joe co-hosts Mika Brzezinski and Joe Scarborough have officially addressed Trump's comments on "Crazy Mika...bleeding badly from a face-lift."
The pair spoke to Vanity Fair about Trump's tweets against Brzezinski.
Because of the tweets, she and Scarborough delayed a planned vacation in order to appear on their show Morning Joe on Friday, June 30.
While they were at Mar-a-lago, Scarborough told Vanity Fair,
The irony of it all is that Donald kept saying, 'That's incredible. You can't even tell. Who did it? Who did it?' He kept asking for the name of the doctor. He literally asked 10 times. 'Is he down here? Who is he?'
Brzezinski corroborated Scarborough's story, and said that while the fact that she got cosmetic surgery was something that she had wanted to keep to herself, she laughed off the attack. She had even previously told friends she had had the procedure.
"I had a turkey neck," Brzezinski told Vanity Fair. "My mom told me to get it done. I was FaceTiming all my friends, telling them to get it done, that it wasn't so bad."
She even clapped back at Trump on Twitter before taking to the air waves:
Clearly, to Brzezinski, it wasn't just about the "bleeding badly from a face-lift" comment.
The co-hosts revealed that Trump had allegedly blackmailed the couple -- by offering to have the National Enquirer, published by his longtime friend David Pecker, pull a negative article about the media couple if they would apologize on-air for negative coverage. Scarborough even claimed to have the receipts of these exchanges and threats, having kept phone records.
On Morning Joe on Friday, their segment led to a discussion about the implications of a president who attacks individuals in the press, makes up bold-faced lies, and appears to be emotionally unstable -- often tweeting angry, vaguely threatening diatribes in response to negative press coverage.
"He's so easily played—by a cable news host," Brzezinski said. "What is this saying to our allies? What is this saying to our enemies?"
Brzezinski and Scarborough also wrote an op-ed for the Washington Post, titled, "Donald Trump is not well," which was published this morning.
While Trump has said controversial (and even downright racist) things before, publications and politicians on both sides of the aisle seem to be united in their outrage.