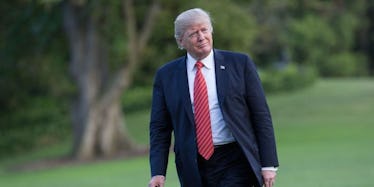 Trump Allegedly Demanded Cameos From Movies Filming In His Buildings, Because Of Course
Chris Kleponis/Getty Images
Remember when Donald Trump made a brief appearance as himself in Home Alone 2 and it was kinda cute and harkened back to innocent days when we thought he was just some wealthy real estate dude? Well, turns out that that whole scene might have been completely coerced. According to Matt Damon, Donald Trump demanded movie cameos in exchange for using his buildings as filming locations – and frankly, I feel exactly zero levels of surprise about any of this.
During an interview with The Hollywood Reporter from Sep. 1, Damon dropped a major truth bomb about Trump's demand for on-screen time, and said it was pretty much a waste of time for the entire crew.
The deal was that if you wanted to shoot in one of his buildings, you had to write him in a part. [Director] Martin Brest had to write something in Scent of a Woman — and the whole crew was in on it. You have to waste an hour of your day with a bullshit shot: Donald Trump walks in and Al Pacino's like, "Hello, Mr. Trump!" — you had to call him by name — and then he exits. You waste a little time so that you can get the permit, and then you can cut the scene out. But I guess in Home Alone 2 they left it in.
Wow. Suddenly that brief, formerly cute Home Alone 2 scene speaks epic volumes about the man currently sitting in the Oval Office today. Also, incidentally, does he only own one, extra-long red tie?
Scent of a Woman star Chris O'Donnell confirmed Damon's comments on April 19, telling Conan O'Brian that he had to film a last minute scene with Trump and his then-wife Marla Maples back in 1992.
We got new pages given to us one day when we were filming [at] the Plaza Hotel — which I guess Trump owned at the time — and it said we're doing a scene with Donald Trump. It explained to us in that in order for us to film at the Plaza we had a little walk-on part for Donald and  Marla.
We get it. Being in movies is fun. But demanding to be put in a film AND have the character say your name, is quite literally the epitome of egotism. It also makes you rethink all of  Trump's other film/television cameos that did not take place on his property, and wonder what sort of weird blackmail might have gone into those appearances.
Because, seriously, he's made a ton of cameos – including The Nanny, The Fresh Prince of Bel-Air, Sex and The City, The Little Rascals (?!) and The Jeffersons. In fact, Trump actually swindled his way into getting dialogue during his, originally non-speaking, Sex and The City appearance.
That line was: "Think about it. I'll be at my office in Trump Tower."
It seems like our president was definitely bitten by the acting bug. If he should choose, at any point, to ditch his current role and pursue a career in the movie industry, I will gladly throw down good money to see any number of the Home Alone sequels he lands in.