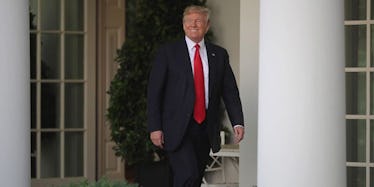 Trump Aides Claim Rodents Are In The White House, So Trump May Be Onto Something
Chip Somedevilla/Getty Images
Remember that report about Donald Trump calling the White House "a real dump?" Well, turns out the president may not have been as far off as you think. The White House actually does need renovations and will be getting them soon.
As Trump leaves for a 17-day vacation at his golf club in New Jersey, renovators will be working at the White House to fix the air conditioning system, and install new painting and carpeting, among other tasks, ABC News reports.
Beyond those cosmetic fixes, though, there seem to be even more concerns. White House aides claim to have even seen rodents around the centuries-old structure, Politico reports.
The original report citing Trump's thoughts on the White House came from Golf.com, for a story that will appear in the Aug. 7 edition of Sports Illustrated.
The story mostly focuses on the president's relationship with golf, but briefly mentions Trump explaining to club members why he's away at his private properties so much, which is where the quote comes in: "That White House is a real dump."
On Wednesday, Trump refuted the report and labeled it (what else?) "fake news." The report now mentions that a White House spokesperson denied the president ever said such a thing.
Still, it appears that the subject of the White House's less-than-perfect condition appears to be one which staff members of multiple administrations appear to agree on, including one under former President Barack Obama.
Tommy Vietor, a former spokesman for Obama's National Security Council, told Politico,
We had bug zappers going 24/7. It's the best office I will ever have, but that building is old and the infrastructure needs constant improvement.
The White House's problem with insects has been in the spotlight before, too, with the Washington Post mentioning it while reporting that the president once summoned former chief of staff Reince Priebus to kill a fly.
A White House official told Politico,
The maintenance people work hard, but when you've got a place that runs 24-7, it's hard to keep it all in decent shape.
Priebus is no longer around, of course, which is its own story in itself. So, it looks like it's all on the White House renovators now. It also looks like Trump might be onto something vis-a-vis his comments about the White House. Well, if he even said those words in the first place.