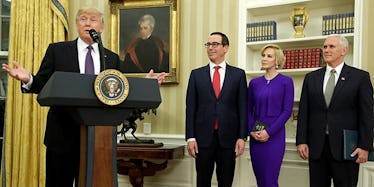 The Trump Administration Kept A Crucial LGBTI Adviser In 'Surprising' Move
REUTERS
Many of former President Obama's employees have been let go after Donald Trump's inauguration, but Obama's top diplomat for LGBT rights isn't one of them.
According to a report from Foreign Policy, the Trump administration will be keeping the Special Envoy for the Human Rights of LGBTI Persons, Randy Berry.
It was labeled a "surprising" decision by Ross Murray, a director for pro-LGBT group GLAAD. He told FP,
This is really surprising to me. I don't think I can applaud it until I see what his mandate becomes in this administration. But Berry has been really effective in that job.
The news comes via a spokesperson at the State Department, where Berry also works as Deputy Assistant Secretary. According to Foreign Policy, Berry would continue "in his role under the current administration."
That special envoy role was created by the Obama administration in April 2015, and it tasked Berry with pushing back against discrimination against LGBT members abroad.
He spoke about his role in an interview with the LA Times last May, saying,
I put a primary focus on using our convening authority to have a conversation because I think there are certain types of compliance and behavior that you can force, but at the end of the day, what we really want to keep our focus on is long-term change. And you can't achieve that through force. You've got to achieve that through education, through conversation, through exposure to the ideas.
There are two reasons in particular why this news is so surprising.
First, there have been multiple long-serving members at the State Department who have been fired since Trump took office. Secondly (and most importantly), Trump was expected to cater to his evangelical voters on LGBT-related matters.
So far, however, the Trump administration has done the unexpected in two key areas.
First, the administration refrained from an executive order that would cancel Obama's protections of LGBT workers. It did so with some help from Ivanka Trump and her husband, Jared Kushner.
And now, the administration has kept a key figure who fights against discrimination of LGBT members worldwide.
Citations: Foreign Policy