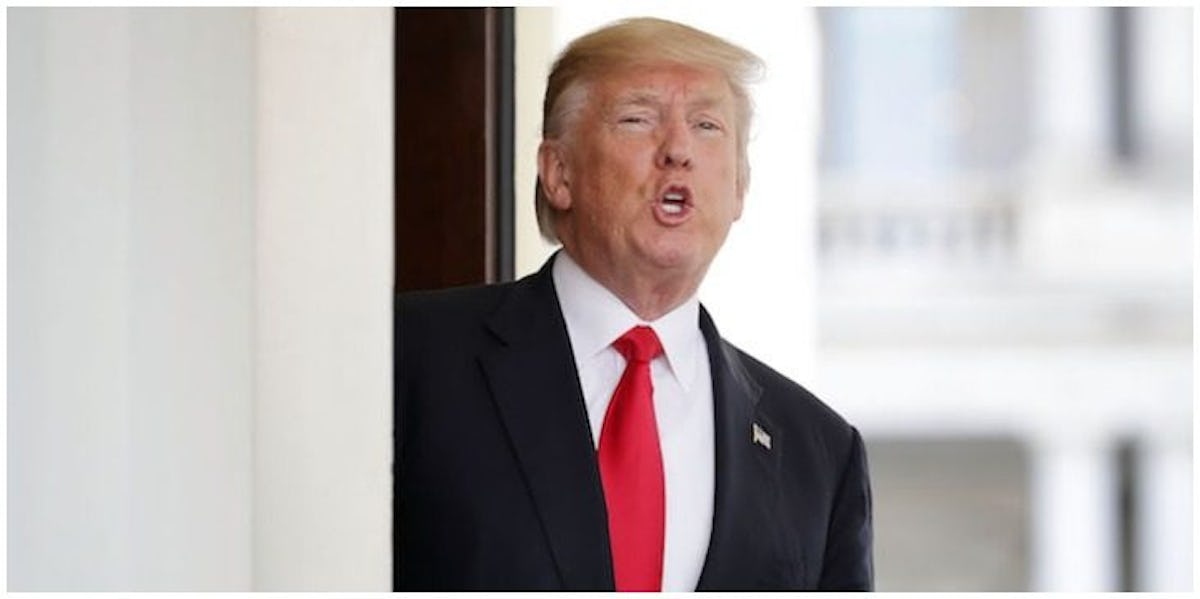 Tropical Storm Don is Bringing Twitter A Whirlwind Of Donald Trump Jokes
Chip Somodevilla/Getty Images
There was Arlene. There were Bret and Cindy. And now... there's Don. Tropical Storm Don, that is.
The fourth Atlantic tropical cyclone strong enough to be named this season, Don is expected to hit the Windward Islands just on the edge of the Caribbean Sea later this week. And people have noticed some similarities between the storm and a certain American politician.
Don't get too excited, however. The storm was not named after Donald Trump.
The name is just the next up on an alphabetical list picked several years ago by a non-political international committee of meteorologists. So it's just a coincidence that the violent wind storm shares a name with the ever-tweeting, ever-defensive President of the United States.
But that doesn't mean there isn't an uncanny resemblance. Both Dons promised to blow hard, but have so far ended up just being blowhards. The storm was initially expected to hit islands in the Caribbean hard, but has since fizzled and will likely just bring heavy rains.
The National Hurricane Center described the storm as "small" and "not particularly well organized," and while I don't regularly read hurricane forecast descriptions, this seems a little pointed for, you know, a storm system.
This isn't the first time the president, who is notoriously thin-skinned, has been the butt of weather- and climate-related jokes.
The Weather Channel famously trolled him when he decided to pull out of the Paris climate accord in June, covering their entire front page with articles about climate science. To boot, jokes about #PresidentBannon reportedly enraged him so much that he thought about canning White House Chief Strategist Steve Bannon.
So, obviously, as one does when one's president is so easily incensed, Twitter is making fun of him and his namesake storm's waning power.
While not exactly a tweet storm, here are some tweets about the storm.
I like to imagine him sitting in the Oval Office, absolutely fuming, making Bannon and Chief of Staff Reince Priebus read out all of these tweets while he comes up with a sick burn for the haters.
Unfortunately for him, there's no Hillary on the list, but there is a Hilda. He just has to wait until 2021. Don't we all.