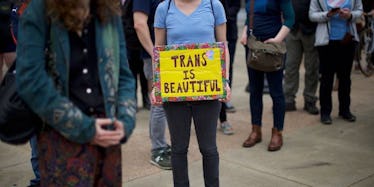 Transgender People Are Finally Getting Justice For Targeted Murders
Getty Images
Joshua Brandon Vallum will be the first person in American history to be sentenced on federal hate crimes charges for killing a transgender person.
In 2015, he murdered 17-year-old Mercedes Williamson, a transgender girl.
Vallum pleaded guilty to federal hate crime charges in December and is set to appear in front of a judge in Gulfport, Mississippi, where he faces a federal sentence of up to life in prison, according to the AP.
Vallum was a member of a gang, the Latin Kings, and reportedly killed Williamson over fears his fellow gang members would find out they dated and were having sex.
Homosexuality is strictly forbidden by the gang, and Vallum was afraid he'd be killed if he was found out.
He reportedly began his plot to kill her after he found out one of his fellow gang members knew about the relationship.
Vallum lured Willimson into a car in Alabama, drove her to his family's home in Mississippi, used a stun gun on her, stabbed her several times and beat her over the head with a hammer until she died, according to the Sun Herald.
This horrific murder was unfortunately not an isolated incident.
Transgender people, especially trans women of color, are frequently targets of violence in the United States.
In 2016 alone, 27 transgender people were murdered across America, according to GLAAD.
This unfortunate trend has continued in 2017. The Human Rights Campaign reports at least 10 transgender people have been fatally shot or killed by other violent means so far this year.
Vallum has already been sentenced to life in prison on a state murder charge. But it is particularly significant he will also be sentenced on federal hate crime charges as well, in terms of acknowledging and giving visibility to the violence transgender people face.
This sends the message transgender lives matter and are protected by the law.
With that said, there is still far more work to do in terms of educating people on transgender issues, and ensuring they feel safe and respected in their communities.
Citations: Mississippian to be sentenced in anti-transgender hate crime (AP), He killed her because of her gender identity. He'll be sentenced today. (Sun Herald)