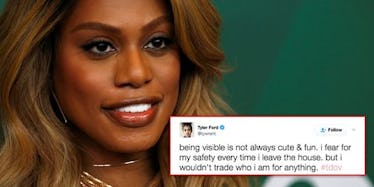 These Tweets Explain What Transgender Day Of Visibility Means To Different People
REUTERS/Twitter
2017 has barely started, but already this year, seven transgender women have been murdered.
Sadly, the transgender community is far from being fully accepted and respected in the US, and trans people continue to face violence and other forms of abuse on a daily basis.
Friday, March 31, is Transgender Day of Visibility, an annual holiday celebrated worldwide since 2009 that's meant to spread awareness about the transgender community in order to increase understanding and prevent further violence and aggression against trans people.
As Human Rights Campaign President Chad Griffin put it,
Violence against transgender people -- particularly transgender women of color -- remains an urgent, heartbreaking crisis. Behind these harrowing statistics are real people who were worthy of safety, dignity, and long, full lives. This epidemic of violence serves as a powerful reminder that lives literally depend on each and every one of us to stand up against hate and violence wherever it occurs.
This is precisely why Transgender Day of Visibility is so necessary.
Eli Erlick, director of Trans Student Educational Resources (TSER), elaborated on the meaning and importance of this day to Refinery29,
Visibility and awareness aren't enough to protect our community, and so we are working to highlight what trans people and communities are doing. Trans people have incredible accomplishments that often go under-recognized and undervalued; we are using this platform to bring attention to our successes and end transphobia internationally. Trans or not, we must collectively resist and take action.
In honor of this occasion, many trans people have taken to Twitter to explain what this day means to them.
What they said varies in major ways, which just goes to show no group of people should be stereotyped or pigeonholed.
Here are some of the most powerful and thoughtful tweets about Trans Day of Visibility, which were shared with the hashtag #TDOV.