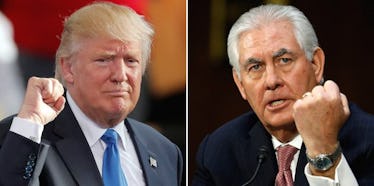 Entire Team Of Top Government Officials Resigns To Avoid Working For Trump
REUTERS
Donald Trump and his administration just got a whole new host of problems in the attempt to run the United States of America.
This has nothing to do with Twitter, gigantic protest marches or squabbles with the media. This is all about staff, which is, arguably, the biggest of all possible problems.
All of the members of the senior level of management in the State Department resigned on Wednesday, January 25, the Washington Post reported.
According to columnist Josh Rogin, this mass resigning was "part of an ongoing mass exodus of senior foreign service officers who don't want to stick around for the Trump era."
The top State Department officials resigned as a new secretary of state was beginning his new position.
Rex Tillerson, former CEO of Exxon Mobil and recipient of Vladimir Putin's "Order of Friendship" (nothing to see here, folks), was approved by the Senate to be secretary of State on Monday, January 23.
This was all despite spoken disapproval from many Democrats and a lengthy confirmation hearing session.
Tillerson was at the State Department on Wednesday, visiting his new digs, right before the top team resigned en masse.
On Wednesday afternoon, State Under Secretary for Management Patrick Kennedy, Assistant Secretary of State for Administration Joyce Anne Barr, Assistant Secretary of State for Consular Affairs Michele Bond and Director of the Office of Foreign Missions Gentry O. Smith all quit.
State Chief of Staff under John Kerry, David Wade, said,
It's the single biggest simultaneous departure of institutional memory that anyone can remember, and that's incredibly difficult to replicate.
He added that it's very difficult to find people to fill these roles as they're all require a very specific set of skills.
When an administration changes, it's typical for there to be lots of staff changes. But usually, the old staff sticks around to help the new one out. That's clearly not what's happening here.
Citations: The State Department's entire senior management team just resigned (Washington Post), Rex Tillerson is approved by Senate panel for secretary of State (Los Angeles Times)