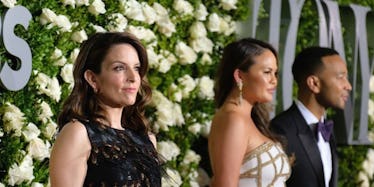 Tina Fey Returned To "Weekend Update" On 'SNL' And Fans Had A Lot To Say About It
Jemal Countess / Getty Images
On Thursday, Aug. 17, the "Weekend Update" segment of Saturday Night Live (SNL) was a memorable one indeed, and fans had a lot to say about it. Tweets about Tina Fey's "Weekend Update" on SNL showed both praise and criticism for the comedian and actress after her latest political statement. Fey's faux advice on the show was in response to a surge of violence and tension in the nation after a white supremacist rally in Charlottesville turned deadly last Saturday.
It's one of many times Fey has made comedy out of tense political situations, and made her own statements about politics and social issues. A video by The Washington Post recaps her most notable political moments, including her skit as Sarah Palin. This one in particular hit home for Fey, a University of Virginia graduate.
Fey, appearing on the fictional news show sketch as herself, explains how she deals with the stress of white supremacy, saying,
It broke my heart to see these evil forces descend upon Charlottesville. ... I know a lot of us are feeling anxious and asking ourselves, what can I do? ... I would urge people this Saturday, instead of participating in the scream matches ... order a cake with the American flag on it, like this one, and just eat it.
Fey's bit got at the heart of the anxiety and stress of liberal Americans have presumably been feeling since Trump took office. Studies earlier this year revealed a concerning amount of anxiety related to the political climate. (For some, apparently, the cause of stress-eating.)
So for some, Fey's joke was a chance to laugh off some of that stress.
The skit was so popular that within minutes, the hashtags #sheetcaking and #sheetcake emerged on Twitter.
Someone even went so far as to make a meme dedicated to the "sheetcaking movement."
But the jury was divided on whether Fey's skit was pure comedy genius or the heart of the problem.
Some people called out Fey's bit for preaching inaction, particularly to a population that is seen by some as not doing enough to combat racism.
Others also called out what they saw as slacktivism or lazy allyship glorified in the segment.
To be fair, the SNL segment did seem to address the inaction Fey was facetiously promoting. Colin Jost, who plays the co-anchor on the skit, responds by saying,
But wait, how will that help?
While it's debatable whether a comedian can be an activist (see: the long and growing list of celebrities who have spoken out against Trump, and Fey's own contributions  to calling out discrimination), Schwartz makes a point that "eating a cake is not enough to end racism."
Though it raised a whole host of other questions, after the week we've had, a little laughter is welcome. And if there's anything we can count on Fey for, it's responding to hatred with humor.