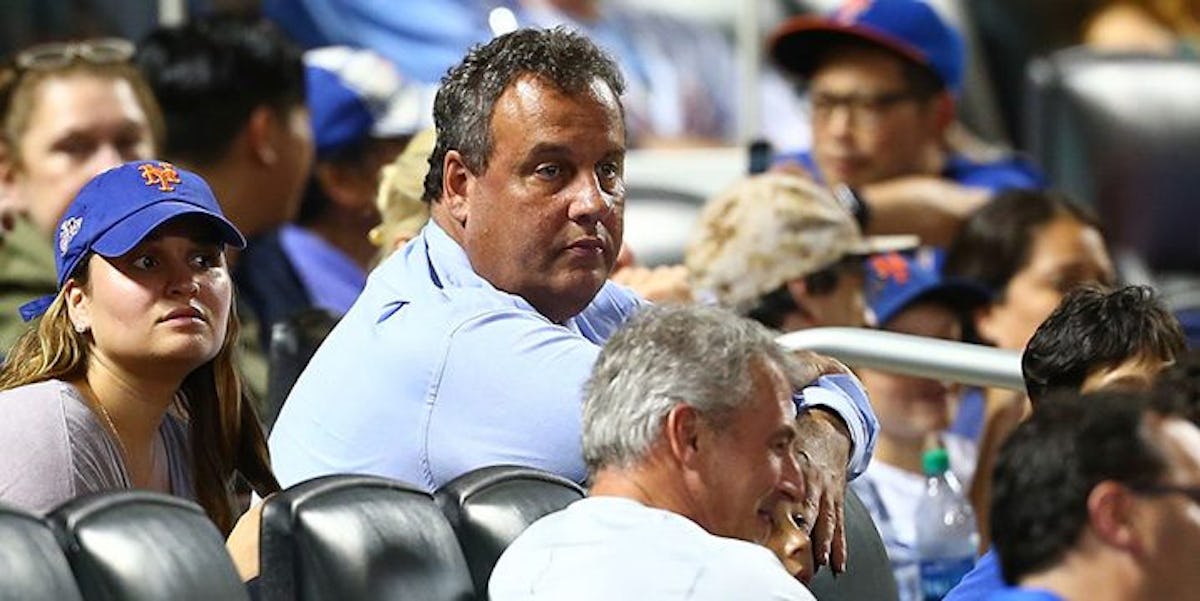 If You Think Your Summer Is Going Badly, Check Out Chris Christie's
Mike Stobe/Getty Images
Chris Christie's sensational summer shows no signs of stopping anytime soon.
On Tuesday night, July 18, New Jersey's governor became the highlight of a New York Mets game when he caught a foul ball, which usually prompts cheers from a baseball crowd.
Except, these fans immediately resorted to boos, seemingly because they noticed who it was after the governor stood up.
As if Christie's reception at Citi Field wasn't bad enough, the reaction from the broadcast announcers wasn't favorable to the governor, either. After cameras panned to Christie, ball in hand, game announcer Dan McLaughlin said,
Nice to see him get from the beach here to the ballpark.
Yikes.
To put it simply, Gov. Christie is having an absolutely electric summer. Oh, and, by "electric," I totally mean electric for you and me, the viewing public, who get to laugh at each subsequent installment of this series of objectively hilarious events.
First, there was that beach that McLaughlin so expertly alluded to, Jersey Shore Park.
Christie was snapped sunbathing there with his family on July 4 weekend after the beach was shut down due to the result of a bigger shutdown: the state government.
Shutting down public parks only to use a public beach as a private vacation spot was simply a bad look. And as we've explained time and again on this here website, bad looks get you meme'd.
Then there was Christie's appearance on WFAN sports radio -- which, to be fair, takes guts from a person who knows he's going to get roasted by callers.
It was nonetheless hilarious when the former presidential candidate was called a "fat ass" bully by a caller who took issue with the whole beach episode (told you it was bad).
Christie eventually hung the phone on the caller, who the governor called a "bum" communist.
And of course, there was the most hilarious story of all, which came out this week thanks to the release of a new book detailing the 2016 election.
According to the book, Christie's relationship with Donald Trump began crumbling after the president (a described germaphobe) was disgusted at the idea of using the governor's phone.
You can't make it up, and I lay all that out to say this.
Governor, I ask this one personal favor: For once, do something for someone from New Jersey and keep this stuff coming.