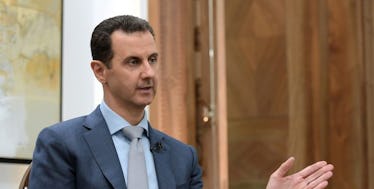 Syrian President Ignores Devastating Torture Pics With Trump's 'Fake News' Argument
REUTERS
Syrian President Bashar al-Assad is insisting evidence of mass killings of prisoners in the embattled country is nothing more than "fake news."
Around 13,000 prisoners were killed at a Syrian prison in Saydnaya, according to a new report from Amnesty International.
Lynn Maalouf, the deputy director for research at Amnesty International in Beirut, said in a statement,
The horrors depicted in this report reveal a hidden, monstrous campaign, authorized at the highest levels of the Syrian government, aimed at crushing any form of dissent within the Syrian population.
The prisoners were executed by hanging in the middle of the night, the report, which was made over a year ago with the input of dozens of witnesses, alleges.
Assad categorically denied any suggestions of wrongdoing on his part.
In an interview with Yahoo News, the president of Syria said the Amnesty report was created "in a fake news era."
We are living in a fake news era.
Assad echoed Trump's language with this insistence that anything that makes him look bad is "fake news."
He went on to say,
You can forge anything these days.
Assad said there wasn't a "shred of evidence" to the Amnesty report. When told it was made with input from a variety of witnesses, he said "they paid money for such a report, and they brought their own witnesses, and they made a report."
He added he has not been to the prison.
The Syrian president also called photographs of prisoners "Photoshopped."
The so-called Caesar photos were taken by a man, code-named Caesar, who used to be part of the Syrian military, but defected.
The photos were taken at Assad's military prisons and were confirmed as "real people and events" by the American FBI. Assad told Yahoo,
If the FBI say something, it's not evidence for anyone, especially for us.
He added you could not conclude anything from the photos, saying they were "propaganda."
The president of Syria said any reports of his government attacking hospitals are "lies and lies and lies."
It was reported in November Aleppo was left without hospital care because of bombing from the Syrian government.
Assad said,
The proof that it was a lie, every time they talk about bombing hospitals, every time they say this is the last hospital in eastern part of Aleppo, and the second time they talk about another hospital and they say the same 'they bombed the last hospital.'
The man accused of dropping chemical bombs on his own civilians said Trump's refugee ban was smart because there are "definitely" terrorists hiding as refugees.
(The United States has long had a lengthy vetting process for accepting refugees. Not one person accepted by the United States as a refugee has committed a terror attack.)
The Syrian president said it wasn't his place to opine on American policies, but he wants refugees to stay in Syria, which has been embroiled in a harsh civil war for six years.
Citations: 13,000 people hanged in secret at Syrian prison, Amnesty says (CNN)