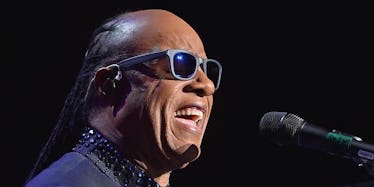 Stevie Wonder Played A Major Role In Making MLK Day A Reality
Getty Images
Dr. Martin Luther King, Jr. fought tirelessly to create a more peaceful, free, just and equal society.
He changed the very fabric of our nation and inspired people around the world. Dr. King taught us that love and solidarity are the most powerful forces in the world, famously stating:
Darkness cannot drive out darkness; only light can do that. Hate cannot drive out hate; only love can do that.
On April 4, 1968, hate took Dr. King from this world, but his timeless message lives on. Love is immortal; hate is fleeting.
We celebrate the life and message of Dr. Martin Luther King, Jr. every single year on Martin Luther King, Jr. Day. He was born on Jan. 15, 1929, thus the holiday lands on the third Monday of January each year.
Yet, in spite of the way we commemorate him now, it may come as a surprise to many people that it took years for the holiday to become a reality due to fierce opposition in Washington.
At the center of this struggle was none other than blind musical sensation, Stevie Wonder. For years, he fought tirelessly for MLK Day to become a national holiday, as detailed by Marcus Baram in a must-read piece for Medium.
MLK Day did not become a national holiday until 1983 and was not fully observed until 1986. To put this into perspective, some Millennials are about as old or older than the holiday. Prior to that and even after, Wonder went on tours, held concerts and wrote songs in support of the holiday.
Opposition to the holiday was deeply rooted in the unfortunate tradition of intolerance and racism in the United States. Simply put, MLK Day almost never happened because of the very sentiments King spent his life trying to eradicate.
Four days after Dr. King's death, Congressman John Conyers (D-MI) introduced legislation providing for a Martin Luther King, Jr. Federal Holiday. Martin Luther King, Jr. was a Nobel Peace Prize Winner and an American hero, yet many conservative politicians were not fond of establishing a national holiday in his honor.
One such politician even labeled King a "lawbreaker" and "Communist" when the issue came up in Congress.
The idea would be debated by politicians for many years to come, and the tumultuous events of the late 1960s and 1970s did not help in this regard. American legislators were quite distracted with the Vietnam War, economic stagnation and Watergate, among other events.
Even after MLK Day was made a national holiday, it would not be until the year 2000 that all 50 states recognized and honored it.
All the while, Stevie Wonder never stopped offering public support for the holiday. In 1979, he released a song, "Happy Birthday," which he wrote in honor of King's life.
The record sleeve for the tune featured a picture of Dr. King and this message from Wonder:
We still have a long road to travel until we reach the world that was his dream. We in the United States must not forget either his supreme sacrifice or that dream.
Unfortunately, Wonder's words still ring true today. We have not fully eradicated the evils of racism, intolerance and injustice from our society.
Indeed, we have not fully realized Dr. King's dream, but as he once aptly stated,
We must accept finite disappointment, but never lose infinite hope.
Happy MLK Day!