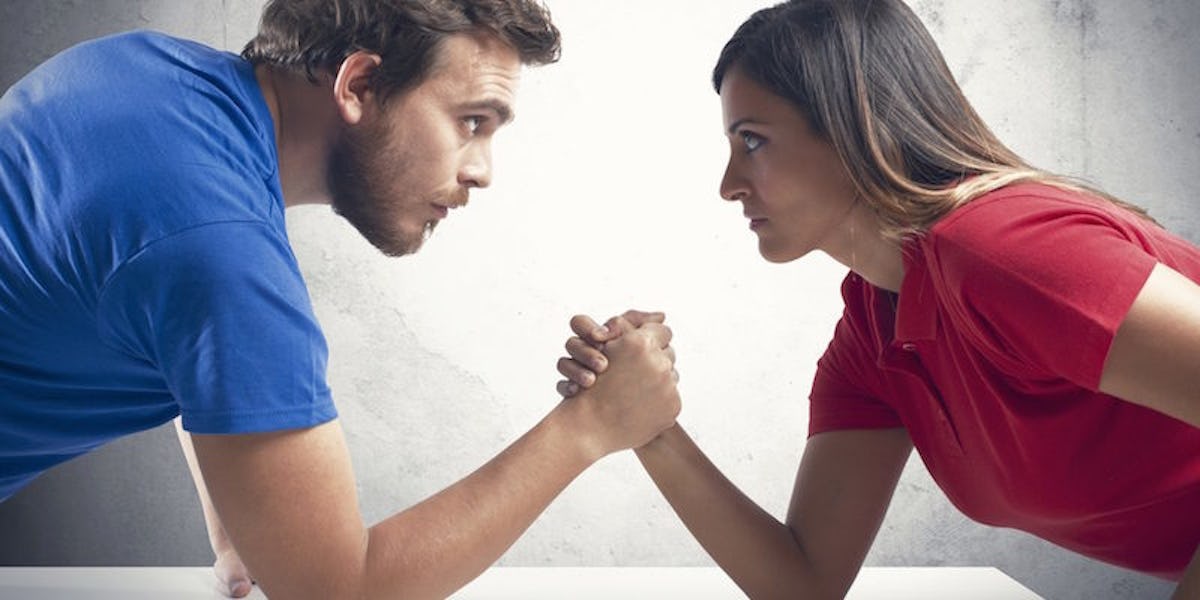 How To Stay Friends With Someone Who Has Totally Different Political Views
Shutterstock
Things are heating up. The drama is real, and so are the tensions. In fact, I don't think I can recall observing this level of vitriol, insanity and hatred in a presidential election in my 14 years of voting adulthood.
It's as entertaining as it is scary. Sometimes I have to remind myself: Holy shit, this is all really happening.
The truth is, the 2016 run for the presidency is more of a circus than I ever anticipated it could be. I knew it wouldn't be pretty, but damn. And the opinions of the people — the regular, terrified, everyday citizens of this nation — seem to be on track towards a social media world war like we've never seen. There are countless Instagram pages dedicated to the support of the candidates, Facebook groups, Twitter trolls, all with the mission of making their voice heard while tearing down anyone else who tries to battle their favored candidate.
I have to admit, though, it has been quite refreshing to see how active this upcoming election has made the Millennial crew. I'm really glad there has been a politically fueled fire lit under the asses of these movers and shakers because these are the issues that matter. And as we all know, we the Millennial people have the ability to change the world.
I have friends on my side of the political fence. I also have friends on the other side of this fence. Hell, even my husband and I have opposing political views at this point. But one thing is for sure: I am NOT about to let all of this political anarchy ruin my relationships. I'm a business owner, and I would NEVER let my views affect my success at any cost.
At the end of the day, whatever is going to happen, is going to happen. I have made my presidential desires clear, I'll keep my fingers crossed that my dreams come to fruition and, in the meantime, I plan on sitting back, not engaging in personal political conversations and continuing to mind my own damn business.
Unless you personally have hit the campaign trail in favor of a certain candidate, you may want to play the next few months on the safe side of things, ensuring to not damage friendships, file for divorce and/or back yourself into a corner of opinions and anger. Because nothing drives tensions and unhappy feelings more than a person you care about not being able to see and accept your point.
Simple example, I will never agree with my husband's love of country music, but you don't see me posting about why the sound of country music makes me want to drive sharp objects into my skull, do you?
I am not a political expert. I am not even that radically political. You don't have to listen to me. But you can't say I didn't warn you.
These are my three ways to not lose friends during this election season:
1. Keep politics off your social feeds.
Facebook, Instagram, Twitter, LinkedIn, and for God's sake, any dating app you are signed up for — unless you feel like telling the world you just voted and feel so damn patriotic because of that, there is no need for you to share your political views with your friends and family. Whether others make it clear to you or not, they could be extremely offended if you, say, endorse a candidate publically who has personally offended a Facebook friend of yours with a racial slur or extreme declaration of nonsense. Politics and social media do not mix. Don't do it.
2. Keep politics away from the dinner table.
Because nothing ruins a nice night out with friends faster than a heated conversation turned table-flipping argument faster than a comment like, "How could you actually LIKE that candidate?!" If you dare to swim these waters, I can guarantee you'll never be dining with these people again. Politics is never a tasty side dish.
3. Think before you speak.
This is a tough one, even for me. I am full of thoughts — lots of thoughts at all times, wherever I go and whatever I'm doing. It's taken me a long time and a lot of arguments to learn that my opinions about your choices, regardless of what they're about, belong in my head and my head only, unless otherwise specified. Trust me, I'd love to tell you why voting for a certain candidate will drive our country straight into the ground, but I don't, because you don't care what I think. And what I think will not change the outcome, but I do think it could cost us our friendship.
So for now, I'll keep my mouth shut, hope you choose to do the same and ride the wave of insanity for the next few months quietly. See you at the polls.