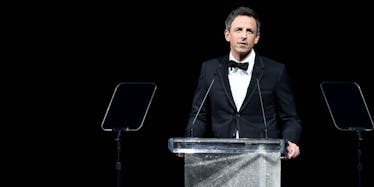 Seth Meyers' Moving Response To Charlottesville Has Everyone Cheering
Theo Wargo/Getty Images
When late night hosts decide to touch on controversial issues it can often be hit or miss, but Seth Meyers' response to Charlottesville and Trump on Monday night, Aug. 14, has the internet cheering. Meyers gave a moving and impassioned monologue about what occurred in Charlottesville, Virginia, and the ways in which Trump's response fell miserably short. Much like Jimmy Fallon did through his powerful remarks on Charlottesville, Meyers showed that this is no time to be silent.
Meyers took particular issue with Trump's apparent unwillingness to explicitly condemn white supremacists in his initial reaction to the recent events in Charlottesville. On Saturday, Aug. 12, as Trump responded to the violence in Charlottesville that left one young woman dead after a car plowed into a group of people protesting white nationalists, he said, "We condemn in the strongest possible terms this egregious display of hatred, bigotry, and violence, on many sides. On many sides."
Like many people, Meyers was disgusted by Trump's vagueness and the false moral equivalence he drew between neo-Nazis and counter-protesters. During his show on Monday, Aug. 14, Meyers said, "On many sides. If that choice of words made you feel sick to your stomach, the good news is you're a normal and decent person."
Meyers accused Trump of failing to do his job.
After running through many of the racially charged decisions and statements Trump has made in the past, Meyers added,
His job is to lead, to cajole, to scold, to correct our path, to lift up what is good about us and to absolutely and unequivocally and immediately condemn what is evil in us. And if he does not do that, if he does not preside over our society, then he is not a president. You can stand for a nation or you can stand for a hateful movement. You can't do both. And if you don't make the right choice, I am confident that the American voter will.
Meyers' powerful remarks were widely applauded on social media.
Watch the full monologue below.