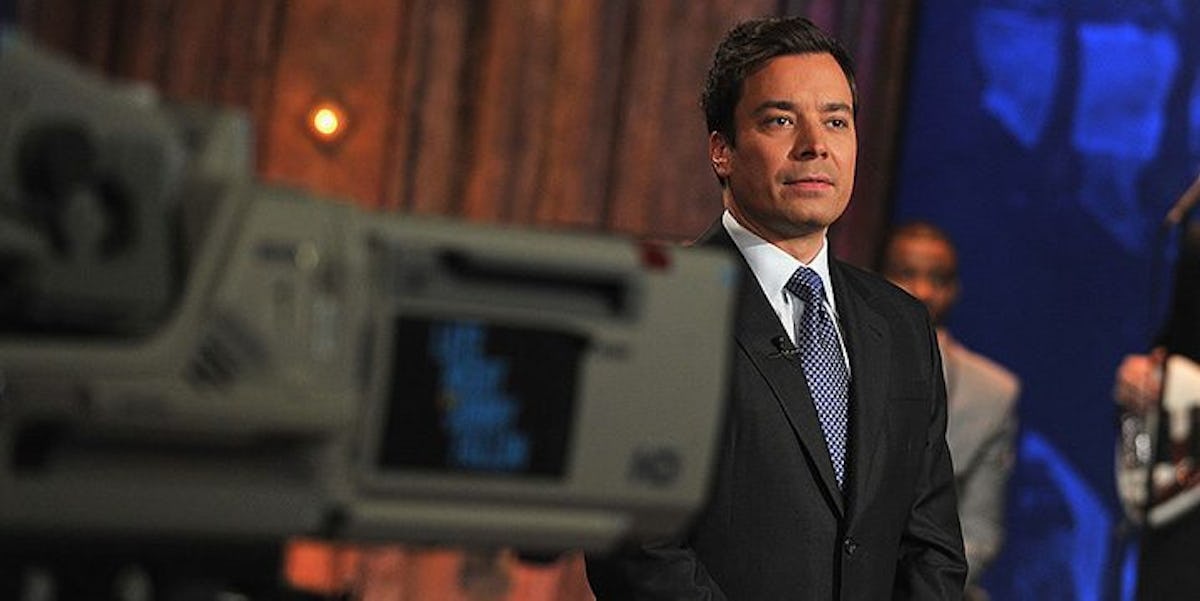 Jimmy Fallon Tearfully Speaks Up About Charlottesville: "We Can't Go Backward"
Theo Wargo/Getty Images
On Monday night, Aug. 14, Jimmy Fallon talked about Charlottesville and did it without the usual comedic tone of his monologues. The late night host began his monologue by expressing his disgust at the events that unfolded during white nationalist demonstrations in Virginia over the week. Fallon said,
What happened over the weekend in Charlottesville, Virginia, was just disgusting. I was watching the news like everyone else, and you're seeing Nazi flags and torches and white supremacists and I was sick to my stomach.
Fallon wasn't the only comic to get serious on Monday night. Fellow NBC late night host Seth Myers also delivered a monologue related to the protests in Charlottesville. Like Myers, Fallon devoted time within his speech to criticize President Donald Trump for not specifically condemning white supremacist groups on Saturday.
Fallon said,
The fact that it took the president two days to come out and clearly denounce racists and white supremacists is shameful. And I think he finally spoke out because people everywhere stood up and said something.
Among the reasons Fallon's serious tone on Monday night was notable is the fact that he was criticized for not inserting himself into politics enough, specifically when he interviewed Donald Trump during the run-up to the 2016 election.
Fallon said he was devastated by the criticism he received on that occasion.
The subject of that same interview with Trump is one that was brought up while people online reacted to Monday night monologue.
Despite there being a negative sentiment towards Fallon -- which is clearly carried over from the Trump interview -- the late night host earned praise from others.
Before ending his monologue on Charlottesville, Fallon said,
We all need to stand against what is wrong, acknowledge that racism exists, and stand up for what is right, and civil, and kind. And to show the next generation that we haven't forgotten how hard people have fought for human rights. We cannot do this. We can't go backward.
Clearly, the host felt this subject was too important to avoid.