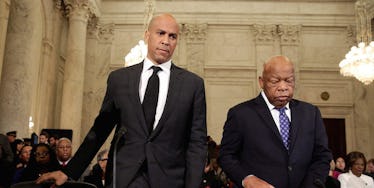 Senator Makes History With Emotional Speech Calling Out Trump's AG Pick
REUTERS
Senator Cory Booker made history on Wednesday afternoon when he testified against Senator Jeff Sessions during a confirmation hearing.
This is the first time ever that a sitting senator has testified against another senator.
Sessions' was the first in a series of confirmation hearings, which is when the Congress asks a president's nominee a bunch of questions to determine whether they will let that person take the position.
Donald Trump selected Sessions to be the attorney general.
The Alabama senator was determined to be too racist to be a judge in the 1980s. He has a low record on rights for minorities, immigrants, women and the LGBTQ+ community.
This is why Booker chose to speak against him.
To start his testimony, the New Jersey senator said,
In the choice between standing with Senate norms or standing up for what my conscience tells me is best for our country, I will always choose conscience and country.
He went on to explain that while the attorney general is in charge of "law and order," justice should still be a priority.
Booker said,
America was founded heralding not law and order, but justice for all. And critical to that is equal justice under the law. Law and order without justice is unobtainable. They are inextricably tied together. If there is no justice, there is no peace.
To explain that point, he spoke about the "Bloody Sunday" civil rights march on the Edmund Pettus Bridge in Selma, Alabama — the state that Sessions represents.
The state troopers, Booker said, were seeking law and order. But the marchers were "seeking justice — and, ultimately, a greater peace."
The attorney general is necessarily involved in promoting equal rights, Booker explained, because of the Civil Rights Act.
But Sessions has not shown that he can do that.
Booker said,
In fact, at numerous times in his career, he has demonstrated a hostility towards these convictions and has worked to frustrate attempts to advance these ideals.
Then Booker went deep. He said,
If confirmed, Senator Sessions will be required to pursue justice for women. But his record indicates that he won't. He will be expected to defend the equal rights of gay and lesbian and transgender Americans. But his record indicates that he won't. He will be expected to defend voting rights. But his record indicates that he won't. He will be expected to defend the rights of immigrants and affirm their human dignity. But the record indicates that he won't. His record indicates that as attorney general, he would object to the growing, national, bi-partisan movement towards criminal justice reform.
Booker went off on Sessions' weak record. He said,
The next attorney general must bring hope and healing to this country, and this demands a more courageous empathy than Senator Sessions' record demonstrates.
Booker made history with the testimony, but he wasn't the only member of Congress to testify against Sessions on Wednesday afternoon.
Civil rights icon and member of the House of Representatives John Lewis, who marched and was attacked in Selma, also spoke out against Sessions.
He spoke about how the rule of law was used to violate the rights of people of color in history. Lewis also spoke about the Voting Rights Act, which was the center of a case Sessions has been criticized about.
Lewis said,
We have come a distance. We've made progress. But we're not there yet. There are forces that want to take us back to another place. We don't want to go back.
Congressman Cedric Richmond also spoke against Sessions and slammed the committee for its handling of the black congressmen.
Richmond said,
I want to express my concerns about being made to testify at the very end of the witness panels. To have a senator, a House member, and a living civil rights legend testify at the end of all of this is the equivalent of being made to go to the back of the bus.
The confirmation hearings on Trump's cabinet picks continue this week and next.