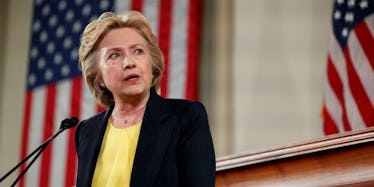 This Actor Just Posted A Hillary Meme With The Most Offensive Hidden Message
REUTERS
According to reports, Scott Baio, best known for his role as Chachi Arcola on "Happy Days," will speak on behalf of Donald Trump Monday night to kick off the Republican National Convention in Cleveland, Ohio.
In case you couldn't tell from that piece of news, Baio is a Republican who called Donald Trump, "a man that I believe in."
You know what that means. Scott Baio is among the many who are anti-Hillary Clinton.
While everyone is obviously entitled to support whichever party they choose, and voice whatever political opinions they may have, there's a fine line between voicing your support for Donal Trump and basically calling Democratic nominee Hillary Clinton a cunt.
Growing up in a house with four women, I feel very strongly about the use of the c-word. It's disgusting, and it should have no bearing on enhancing your political argument.
Now, Scott Baio didn't verbally call Hillary the c-word, but he did tweet "the best meme out there," which appears to show Hillary standing against a backdrop with the word "cunt" behind her.
Congratulations, Chachi. You've just shown your true colors. This is shameful, and I hope Scott Baio is reminded of it when he takes the stage Monday night.
Citations: Scott Baio (Twitter), Scott Baio gets last-minute prime-time role at Trump's RNC (New York Post)