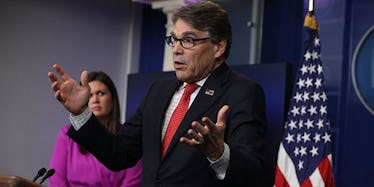 Russian Prankster Tricks Trump Admin Official Into Thinking He's Ukraine's PM
Alex Wong/Getty Images
President Donald Trump's cabinet members just can't seem to avoid inappropriate conversations with Russians. This time, though, the scenario in which such a conversation happened is simply funnier than the rest. Somehow, some way, a Russian prankster tricked energy secretary Rick Perry into thinking he was on a phone call with Ukrainian Prime Minister Volodymyr Groysman.
Instead, he was actually having a 20-minute conversation with a pair of Russian pranksters who are sometimes called the "Jerky Boys of Russia," Reuters reports.
How do we know? Well, Perry's department itself said it (you know, since self-admission of conversations with sketchy Russians figures is all the rage this month).
In a statement released to the Washington Post, Department of Energy spokeswoman Shaylyn Hynes said,
These individuals are known for pranking high level officials and celebrities, particularly those who are supportive of an agenda that is not in line with their governments. In this case, the energy security of Ukraine.Secretary Perry is the latest target of two Russian pranksters.
The pranksters who she's referring to are Vladimir "Vovan" Kuznetsov and Alexei "Lexus" Stolyarov, according to the Washington Post. Kuznetsov and Stolyarov famous for having pranked, among others, famous people like Elton John.
The phone call happened on Wednesday, July 19.
What was discussed?
The answer, it seems, is nothing to worry about. So far, there are no reports of any sensitive information being shared. Plus, an audio recording of the actual phone call, which was posted on a Russian news site, could quite possibly put you to sleep.
In other words, it was all boring stuff, like Perry talking about Texas' productivity in the energy sector. At one point, Perry says,
What we have seen in Texas is the great increase of productivity, particularly in shale gas because of hydraulic fracturing and the directional drilling.
See what I mean? Boring stuff.
Ultimately, the call seems inconsequential, which is a good thing. We can all laugh, guilt-free, at the fact that a body within the federal government can be lured into discussing matters of high-priority with pranksters.
That's definitely not a problem, right? Right.