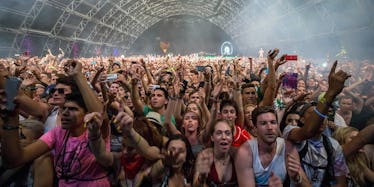 You'll Rethink Going To Coachella When You Find Out Where Your Money Ends Up
REUTERS
Coachella just released its 2017 lineup, and the music festival will include performances from a lot of big names and acts this year: Kendrick Lamar, Radiohead and Beyoncé, to name a few.
While a lot of musical artists and celebrities have refused to attend Trump's inauguration because of his politics, they apparently don't have a problem with the hateful stances of Philip Anschutz, Coachella's owner.
Anschutz is the head of Anschutz Entertainment Group (AEG), the parent company of Goldenvoice, the organization that puts on Coachella.
According to Forbes, he's worth about $12.1 billion and is the 39th richest person in America.
On top of being exorbitantly wealthy, Anschutz has quite a track record of donating money to organizations that embrace anti-LGBTQ+ stances and climate change denial.
So, while the lineup for Coachella 2017 is pretty incredible, you might want to rethink purchasing that $399 ticket if you care about the environment and think love is love.
There's more to life than wearing flower crowns while listening to dope beats.
According to the Washington Post, Anschutz has given money to the Alliance Defending Freedom, the National Christian Foundation and the Family Research Council.
All of these organizations are vehemently opposed to LGBTQ+ rights.
The Southern Poverty Law Center labeled the Family Research Center an "extremist group."
So, in a sense, by going to Coachella, people help contribute to extremism.
According to Greenpeace, Anschutz also donates money to further anti-environmental causes and perpetuate climate change denial.
Anschutz also donated over $1 million to Republican candidates during the 2016 election cycle, according to Open Secrets.
A lot of the artists set to perform at this year's Coachella are unabashedly liberal and quite politically active.
It's hard not to wonder if they don't know or don't care that the man who owns the festival represents everything they claim to stand against.
Citations: Top Individual Contributors: Hard Money, by Family (Open Secrets), Koch Industries: Secretly Funding the Climate Denial Machine (Green Peace), Family Research Council (SPLC), Forbes, Here they are, the 'enemies of equality' for LGBT Americans (Washington Post), Head of Coachella's parent company AEG has donated to anti-LGBTQ and climate denial groups (Cos)