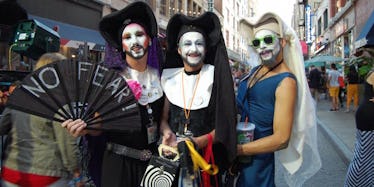 5 Inspiring Moments That Gave Us Hope At The Republican National Convention
Alexandra Svokos
The Republican National Convention in Cleveland, Ohio this week featured quite a bit of chaos and dispiriting things.
There was anger from all sides, plagiarism, hate and an attempted mutiny.
But when things seem dark and you start to get sad about the way the world is going, you have to find moments of hope. Otherwise we would probably lose our minds.
Here are the most inspiring moments of hope we found at the RNC.
A queer, anti-Trump protester explained why the protests weren't all negative.
Cameron Childers, 19, a Case Western University student, joined a big anti-Trump protest on Monday in Cleveland. He came out to protest against anti-LGBTQ+ stances in the Republican platform. Childers said,
When there aren't bathroom protections for trans individuals they can be attacked in the bathroom that they're forced to go into. On the Republican platform this year is the allowance of conversion therapy, which is torture and corrective rape for queer teens. A lot of my outrage comes from the fact that our lives are not platforms. The way that we conduct our lives, the way that we identify, and the people that we love should not be something that the government has a say in.
Despite his anger, though, Childers found hope in the protest. He said,
There's a lot of anger, a lot of outrage, but at the same time there's a lot of love and a lot of solidarity. We are people from different backgrounds. We stand in solidarity with Black Lives Matter, Latino people, Muslims, everyone that is on the margins of society that the RNC is really working against. Even though we all come from different backgrounds and identities, we're all coming together under the same premise of, 'We are not OK with the RNC spewing their hate in our home.'
Sisters came out to bring cheer to the masses.
The Rock and Roll City Sisters, a chapter of the historic Sisters of Perpetual Indulgence, made an appearance around the convention on Wednesday.
Their organization is all about breaking stigma on gender and sexual identity and raising awareness to prevent HIV and other STIs.
Sister Just Fucking Bubbles told Elite Daily some people had been pointing at them as examples of what horrors the country will come to now that gay marriage is legal. But, Bubbles said,
People are going to take away whatever they want. But when we come out, we are hoping that people will be happy and that they will laugh and that they will be joyful. And if anyone is feeling sad, we hope our presence and the way we look will make them laugh. And then that helps stimulate conversation, and you never know where that's going to go -- and that's one of the greatest things, because just by having a conversation you've just touched someone in some way. It's non-judgmental. We're not here to judge. Because if I was worried about being judged, why would I be walking out in public in a dress?
Bubbles explained the name -- "Sister Just Fucking Bubbles, and if you're lucky, you could just be fucking Bubbles." To which I said, "That's amazing." Bubbles responded,
I know! And I am amazing!
Couldn't agree more.
An adolescent Jewish boy called for peace against a Christian taunting people.
A young Jewish man holding a "Just say 'No!' to white supremacy" sign got in an argument with an older man holding signs telling everybody we're all going to hell.
They argued about religion, going back and forth over theology and what scriptures say. The boy asked the old man why he had told him he needed to convert to Christianity. The old man said,
You need to be complete.
To which the Jewish boy responded,
Why does it matter if I'm Jewish? Why does it matter if I'm Muslim? Why does it matter if I'm Christian? If I believe in God, it doesn't matter. If I'm an Atheist, it doesn't matter. Just love everybody. Just love everybody. Just love everybody, man. Love everybody.
The Cleveland police chief prayed with protesters.
Cleveland Police Chief Calvin Williams was handed a heavy task this week. He knew a storm of hate and anger would be hitting his city for a few days, and he had to figure out how to best handle that.
Williams handled it with grace. He walked through the Public Square in Cleveland on Tuesday, taking note of the protests going on and making sure the many officers under his purview were properly handling situations.
Williams personally stepped between two protestors -- a pro-Trump person and a Black Lives Matter advocate -- to mediate their argument and diffuse the tension.
When protesters came up to him, he hugged them and gave high fives and daps. At one point, he paused with several other officers and protesters in front of a Black Lives Matter movement. They huddled together and bowed their heads in prayer. It was truly moving.
An impromptu jam session broke out.
On East 4th Street, the belly of the convention beast in Cleveland, a jam session broke out on Thursday between a saxophonist and a guitarist.
Two men joined the music, one to dance and one to hold a sign declaring "End Racism."
And the guitarist? He had been playing a song called "Make America Great Again" about Donald Trump all week at the convention.
In the city that's home to the Rock & Roll Hall of Fame, the players played on.
And they ended it all with hugs, telling the crowd they'd just met and broken into the jam sesh.