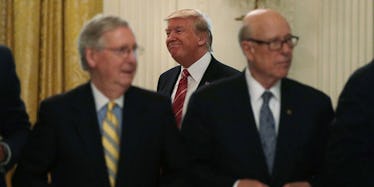 Republican Leaders Are Finally Admitting They Might Not Repeal Obamacare
Alex Wong/Getty Images
Obamacare might not get repealed after all, Republican senators now say.
According to a report from the Associated Press, Senate Majority Leader Mitch McConnell said during a private lunch in his home state,
If my side is unable to agree on an adequate replacement, then some kind of action with regard to the private health insurance market must occur. No action is not an alternative.
McConnell made the remarks when asked about whether he would need bipartisan support to reform healthcare. In other words, the GOP leader acknowledged the possibility of working with Democrats to repair Obamacare, not repeal.
McConnell's statement, along with Ted Cruz (who during the week expressed doubts about an Obamacare repeal), were the subject of a Friday morning report from Fox News, which covered the news as an Republican leaders make the admission "for the first time."
Both senators' statements come at a time during which the Senate is on recess, as the GOP's healthcare bill faces an uncertain future.
With all 48 Democratic senators planning to oppose any repeal effort, McConnell and President Donald Trump had been hoping to rally the support of at 50 of the senate's 52 Republicans necessary to pass the bill, titled the Better Care Reconciliation Act (BCRA).
With such a small margin for error, however, over five Republicans, including Cruz and Maine senator Susan Collins, indicated they would not vote for the BCRA. This resulted in GOP leadership opting to delay a vote until after the July break.
Now that senators have arrived at that break, however, Republican efforts to repeal and replace Obamacare appear even more doubtful then before.
Meanwhile, minority leader Chuck Schumer expressed encouragement on behalf of Democrats.
So, after all the years and campaign promises of an Obamacare repeal, it looks like the GOP might not achieve that repeal at all.