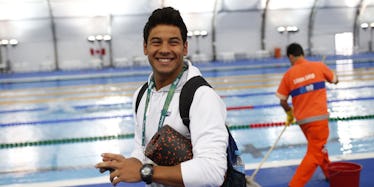 Refugee Olympian Reveals How He Went From Fleeing Syria To Competing In Rio
REUTERS
Some of the most inspiring stories surrounding this summer's Olympic Games in Rio comes from the 10 refugees from Syria, South Sudan and the Democratic Republic of Congo who are competing as Team Refugee Olympic Athletes.
These individuals fled everywhere from Belgium and Germany to Luxembourg, Kenya and Brazil. Terrible circumstances have forced them away from home, but they haven't let it stop them from pursuing their dreams.
We are currently witnessing the worst refugee crisis of our era, with over 20 million refugees across the globe. War, violence and persecution have forced far too many people from their homes.
The refugee athletes competing in the Olympics have overcome obstacles most of us can barely fathom. They're a testament to the resilience of the human spirit.
As the UN High Commissioner for Refugees Filippo Grandi put it,
We are very inspired by the Refugee Olympic Athletes team – having had their sporting careers interrupted, these high-level refugee athletes will finally have the chance to pursue their dreams. Their participation in the Olympics is a tribute to the courage and perseverance of all refugees in overcoming adversity and building a better future for themselves and their families. UNHCR stands with them and with all refugees.
Among the refugee athletes who make up Team Refugee Olympic Athletes is Rami Anis. His story is emblematic of the immense struggles these refugees have faced on the road to Rio.
Anis is from Aleppo, Syria, a city that's been decimated by the ongoing war in his country that's claimed hundreds of thousands of lives.
Anis fled Syria when he was 20 in order to avoid being drafted into the military.
In an interview with TIME, he said,
I do not want to be in a war where all the victims are Syrians. So, I did not want to do the military service.
Most of Anis's family and friends have also left Syria. At present, there are around 4.8 million refugees from Syria, according to the UN refugee agency.
When Anis left, he took a car across the border to Antakya, Turkey and then a plane to Istanbul. Anis didn't think he'd be there for that long and barely brought anything with him. Speaking with the UN refugee agency, he said,
The bag I took had two jackets, two t-shirts, two trousers – it was a small bag. I thought I would be in Turkey for a couple of months and then return to my country.
Anis has been swimming since he was 14. His specialty is the 100m butterfly, and he competed on Syria's national team across the world before he was forced to flee his country.
In Istanbul, he resumed training with the elite Galatasaray sports club, but couldn't compete on the international level anymore.
Eventually, in October 2015, he made the dangerous decision to journey across the Mediterranean from Turkey in a boat in order to reach Europe, where he'd have more opportunities to train and compete.
Thousands upon thousands of refugees have attempted to make this perilous journey, which claimed the lives of 3,770 people in 2015.
Anis and his younger brother got into a boat with a number of other people, making the journey at night, knowing he might die in the process. He said,
You have to imagine everything. What if the boat toppled, what should you do? Of course, I would not only swim and save my own life. I would try to help as many people as possible.
Fortunately, the boat made it safely across, and then Anis made the lengthy trip from Greece to Belgium, crossing over Macedonia, Serbia, Croatia, Hungary, Austria and Germany along the way.
In Belgium, Anis was able to find a swim team, which put him on the path toward joining Team Refugee Olympic Athletes.
He's overjoyed to be able to compete but still wishes things were different. Speaking with NBC, he said,
I wish from my heart that there will be no more refugees and we can go back and participate for our country.
We should all join Anis in this wish, as it's very disheartening millions of people have been forced from their homelands under such violent circumstances.
For now, we can cheer for him and the nine other refugees competing in Rio, showing solidarity with refugees worldwide.