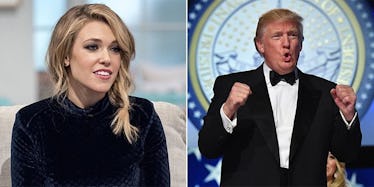 Rachel Platten Is Pissed 'Fight Song' Played At The Inaugural Ball
REX/Shutterstock
Rachel Platten is reportedly pissed "Fight Song" was played at Donald Trump's inaugural ball without her permission, and she may not be the only songwriter who feels this way.
Apparently, YouTube stars The Piano Guys covered Platten's "Fight Song" as a mashup with "Amazing Grace" at the inaugural ball this past Friday.  And while everyone in attendance might've enjoyed The Piano Guys' performance, it appears Rachel Platten did not.
The 35-year-old songwriter fired off a few tweets, in which she claimed no one asked her for permission to use "Fight Song" at Trump's ball.
Platten wrote,
While I respect the office of the President and the peaceful transfer of power, I want to make clear that at at no point did the Piano Guys ask for permission, nor did I or anyone on my team know of, approve or endorse their decision to play Fight Song tonight.
Yikes!
It didn't take long for The Piano Guys to respond to Rachel Platten's tweets, and it appears they made it quite clear they weren't "endorsed" by the "Fight Song" author.
The Utah-based group wrote,
Our performance tonight, which combined "Fight Song" and "Amazing Grace" had nothing to do with Hillary Clinton or politics.... We chose to perform our version of "Fight Song/Amazing Grace" - it was not endorsed by Rachel Platten. We love Rachel and we love her song.
Now, you might remember "Fight Song" was Hillary Clinton's campaign song, which throws a whole new element into this song stealing situation.
Apparently, though, Rachel Platten isn't the only songwriter who had her music used without permission Friday night.
The Piano Guys reportedly covered One Direction's "What Makes You Beautiful," and songwriter Savan Kotecha expressed his "disappointment."
Kotecha wrote,
They were absolutely NOT given permission to use WMYB at the inaugural ball. I will be looking into taking action.
Additionally, Kotecha reportedly told Billboard,
The song is about love, joy and acceptance. The fact that it was used to celebrate a man who stands for divisiveness and bigotry breaks my heart.
He continued,
I wrote 'What Makes You Beautiful' for my wife. I am a son of immigrants. My children are biracial. A 'Trump America' makes me worried for their future.
Ugh. Is anyone really surprised by this?
Citations: Songwriters Displeased About Unauthorized Use of Their Songs at Inaugural Ball (Entertainment Tonight)