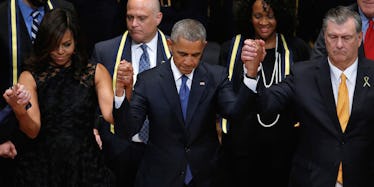 10 Quotes From Obama's Dallas Speech That Prove America Isn't Falling Apart
REUTERS
It's safe to say the mood in the US right now is exceptionally somber.
People are understandably upset about a wide array of issues as the country struggles to move forward after the fatal police shootings of two black men in Minnesota and Louisiana and the tragic attack that left five police officers dead in Dallas.
Meanwhile, the presidential election continues to incite divisions, both between the two major political parties and within the parties themselves.
Indeed, America feels like quite a mess right now, and it's hard to blame anyone for feeling a bit pessimistic.
But on Tuesday at a memorial service in Dallas for the five killed police officers, President Obama reminded us why we all still have plenty of reasons to feel hopeful.
It was one of the most powerful speeches he's ever given in terms of his vision of America. His words weaved an image of a country that has the capacity to come together and change.
In spite of all our differences, the president remains faithful we can find a way to recognize our common humanity in order to build a better future.
The president acknowledged his own flaws, and doubts, while painting this picture of America.
But, he made it clear it's because of our imperfections that we all share a common bond: We are all human.
Here are 10 quotes from President Obama's speech that remind us America isn't completely falling apart; it's just going through some transformations. Change can be painful, but it's necessary.
Things are not as bad as they seem; reject despair.
We've been through worse, and we've overcome harder times.
We're all in this together.
When times get tough, we persevere and we exhibit solidarity.
We find strength in unity, not isolation.
Our diversity is our strength.
Change is a matter of opening your heart to other people.
Tomorrow is always another chance to turn things around.
We all are in control.
Change does not necessitate perfection, and America is proof of that.
Read the full transcript of the president's speech by clicking here or watch his speech in the clip below.
Citations: Read President Obama's Speech From the Dallas Memorial Service (TIME)