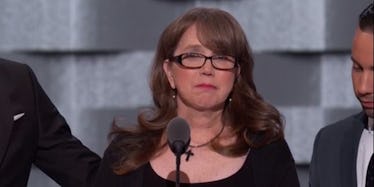 Mother Of A Victim Of The Pulse Shooting Just Brought The DNC To Tears
Twitter
Christine Leinonen, mother of Christopher "Drew" Leinonen, a victim of the Pulse nightclub shooting in Orlando in June, spoke onstage at the Democratic National Convention on Wednesday night.
Leinonen was the first of several family members of victims and survivors of various shootings to speak at the DNC.
The list includes Erica Smegielski, whose mother died in the Sandy Hook Elementary School shooting, and Felicia Sanders and Polly Sheppard, survivors of the Charleston church shooting.
Leinonen's appearance brought silence to the Wells Fargo Arena, where the DNC was happening. By the end of the speech, many audience members (and yours truly) were in tears.
Leinonen opened her speech by saying that it takes five minutes for a church bell to ring 49 times, which it did to honor the 49 victims of the Orlando shooting.
She spoke about her son, noting that he won an award when he was younger for creating a Gay Straight Alliance in high school.
She also explained that her son's grandparents had met at a Japanese internment camp.
Leinonen said,
Christopher was a big Hillary supporter, that's why I'm here.
She explained that when she went into labor with Leinonen, she was a Michigan state trooper and the hospital put her gun into a safe. Leinonen said,
I didn't argue, I know commonsense gun policies save lives.
She said that she is happy that gun control policy was in place on the day her son was born. But she wonders where gun control was on the day he died.
The weapon that murdered my son fires 30 rounds in one minute. ... One minute for a gun to fire so many shots. Five minutes for a bell to honor so many lives.
Because of her support for gun control, Leinonen supports Clinton and was at the convention to say so.
The other survivors and family members who spoke at the DNC on Wednesday evening, which also included former Congresswoman Gabby Giffords, who was shot, spoke about their support for Clinton's gun control policies.