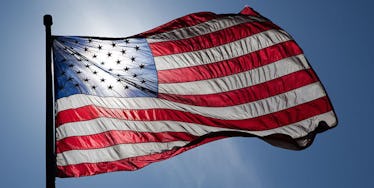 Deez Nuts 2016: These Are The Real Candidates Who Deserve Your Vote
This post was written by Stacey Leasca and Gillian Fuller.
The 2016 presidential race is already turning into pure lunacy.
More than a dozen Republicans are currently running for their party's nomination.
A handful of Democrats have thrown their hat in the ring.
Sure, the race may seem like it's on lock for a few of these people, namely Clinton, Sanders, Bush, Trump and Carson, but what about the other candidates?
No, we aren't talking about the well-known second-tier contenders like Jindal, Christie, Rubio, and O'Malley. We're talking about the everyday Americans like you and me, who decided it was high-time a commoner held the highest office in the land.
The Federal Election Commission lists every single person who is running in the 2016 presidential race. The list currently contains more than 1,300 names. Here is a selection of our favorite candidates who totally deserve your attention.
A$$ DAT PHAT A$$ doesn't care that his name is spelled with two dollar signs, hell it's one more than Ke$ha's.
A$$ is currently running for the Republican ticket. He is also running under the "The Committee Of Dat A$$," as stated in his statement for candidacy.
Mr. Ass (no relation to A$$ DAT PHAT) is running as an Independent. The "Mmm Dat Ass Committee" is notoriously difficult and has been known to run a very dirty campaign, especially against their rivals, "The Committee Of Dat A$$."
Osama may be running unaffiliated, but that's ok. We know he will make "gains" in the polls any day now. According to his statement for candidacy, he's been prepping for this role for a while and has just "bin liftin' for president."
Sure, there are already two other butts running for office, but who cares? Sydney's butt isn't just quietly sitting in the corner. No, no. It's voluptuous and ready to take on any foreign trade deals that come its way. Sydney's buttocks are of course running as an Independent.
He's already a president and an emperor, what more do you want from him? Caesar, who hails from, where else, Florida, is ready for your vote. Although his statement of candidacy is nearly illegible, we may just give it to him based off his qualifications alone.
Everyone's favorite WWE superstar is apparently running under the socialist ticket. Why? Because he's a true man of the people.
Kaptain Kush doesn't even remember entering his name into the campaign, but that's okay, man, he's chill. He thinks it would be dope if he became president, because then, he could like, totally legalize weed and stuff… yeah. What?
Mr. McAverage is the guy next door. Literally. He's your neighbor. He's running with the little-known Independence Party, and hopes to appeal to the people with his overwhelming normalcy. He's known for dad jeans, golfing, and his commitment to not rocking the boat.
Bofa Deez Nuts is running for President alongside siblings Deez Nuts, Cee Deez Nuts, and Hold Ma Nuts. This merry clan of Independent candidates hope to reinstate the monarchy and reclaim what is theirs (namely, Canada, Mexico, and most of South America).
Harry (The MLG Wizard Ultra MC) Potter
After a long stint ruling the Wizarding World with an iron wand, Mr. Potter is ready to charm the Muggle citizenry. A champion since birth, he once vanquished England's most powerful wizard with nothing more than a dirty old rock. He will not be defeated. Mr. Potter is running with the Commandments Party.
LOLOLOLOLOLOL.