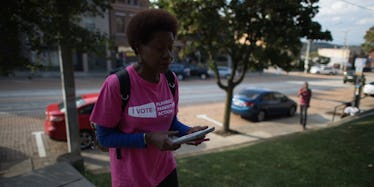 Planned Parenthood Is Trying To Sway The Election, And They Just Might Do It
Planned Parenthood
Kendra started volunteering at Planned Parenthood a week after she moved to Ohio in August.
The 27-year-old – who is passionate about women's rights – moved from Illinois, which has long been a Democratic-leaning state when it comes to elections. So, when she was making her move to Ohio (a swing state), she knew she wanted to get involved in the election.
Kendra told Elite Daily,
I've never lived in a state where I felt there was a risk that the issues most important to me would not be represented when people went out to vote.
So, she joined the Planned Parenthood election campaign.
The political side of the health organization is spending $30 million to encourage voters in several key swing states -- Pennsylvania, Wisconsin, Nevada, New Hampshire, North Carolina and Kendra's new home of Ohio -- for both the presidential election and Senate races.
The ground game has volunteers and staff both phonebanking and canvassing to inform potential voters about the candidates' stances on Planned Parenthood, as well as other issues affecting women and families.
It's a year of political history for Planned Parenthood. In January, they made their first ever endorsement for a primary presidential candidate: Hillary Clinton.
Planned Parenthood – who celebrated their 100th birthday this weekend – have been building up their political work over the past few election cycles. This year's election is important for women's health in particular, so they raised as much money as possible to launch this effort.
The desire to stop Donald Trump from becoming president has been a big motivation.
Deirdre Schifeling, executive director, told Elite Daily,
Access to abortion is on the ballot this year like never before.
Trump – along with his running mate, Mike Pence – has said he would take away abortion rights and support the nomination of a Supreme Court justice who would work to limit women's access to abortion.
In the spring, Trump said women who get abortions should be punished. He has also said he would defund Planned Parenthood.
At first, Kendra was just calling people up. She was nervous about canvassing (going door-to-door to speak to voters) because she thought it might be unsafe.
But then, one day, she said,
I saw something particularly abhorrent Donald Trump had done. I thought to myself, 'I cannot be part of letting this man run the nation.'
So, she joined the canvassing team, and started ringing doorbells to talk to people. Despite her nervousness, she said it's been "an incredibly positive experience."
Cassie, a 19-year-old on the ground game in Nevada, has also said she's gotten overwhelmingly positive responses.
She said,
I've never met anybody who's not been supportive of Planned Parenthood.
People have told her their own stories of using Planned Parenthood's services, and Cassie loves hearing them.
I've seen people's faces light up when they open up the door and see our pink t-shirts.
She volunteered with the organization before the campaign even began. Cassie grew up with great sex education resources, but she was horrified by the lack of information provided at her high school.
As her classmates began becoming pregnant and getting STIs, Cassie started working with Planned Parenthood to help spread helpful information. Now, she's part of the election campaign.
Both Cassie and Kendra were not initially big fans of Clinton.
Kendra supported Bernie Sanders during the primaries. In previous elections – when she lived in Illinois – she voted third-party.
But since Clinton was nominated for the Democrats, Kendra said,
I have truly come to see how hands down she is the best candidate to defend women's rights, women's access to reproductive health care, as well as work to bettering our country and fighting for the things that are most important to the people in this nation.
Especially since she's in a swing state, Kendra knows her individual vote has a purpose... and she's using it for Clinton.
Cassie was undecided during the primaries, but it was Clinton's "continuous" support for Planned Parenthood that pushed her vote.
Planned Parenthood is working to inform voters on the candidates' stances.
Kendra doesn't see her work as "influencing" voters: "I see it more as providing them information."
She said she's been surprised by how many people say they're fans of Planned Parenthood, but don't know Trump's stances on the organization, nor other issues affecting women and families.
Schifeling, the executive director, said,
For many voters who are just living their lives, taking care of their families, going to work, they're not necessarily aware of the extreme stances Donald Trump has.
They're speaking to the potential voters who would be most swayed by reproductive health issues.
They know that most of the country supports safe and legal abortion access, "so that didn't quite narrow it down enough," Schifeling said.
So, they narrowed it to people who would base their vote on reproductive health. There are about 28 million voters who would.
Of those 28 million, 9 million live in swing states. Planned Parenthood aims to personally speak to 3 million of these swing state voters by November.
This type of modeling is a big improvement from their 2012 campaign, which spoke to a broader range of people. They believe this model is more efficient. But even in 2012, the Planned Parenthood campaign was extremely effective.
Planned Parenthood believes that women – and care for women's health – are major factors in this year's election.
Schifeling said,
We know that women voters are going to make the difference.
Cassie and Kendra, along with the other campaigners, have the potential to personally sway the election in their respective states.
For Kendra, it's all about growing "our democratic process, because the more information people have, the more likely they are to go to the polls as informed voters."
Cassie said,
It's kind of intimidating being in a very large swing state, but we just know every single time we go out and knock doors, that's our chance to make a difference.
The election is on November 8.
Elite Daily and 50 other media organizations partnered with Rock The Vote to register 100,000 women to vote. You can register right here (and men can use it too) :
Citations: The Hill