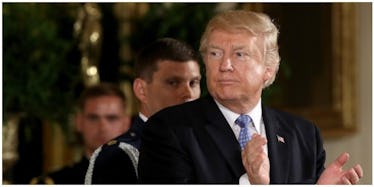 People Are Freaking Out Over This White House Tweet For The Dumbest Reason
Win McNamee/Getty Images
The official White House Twitter pressed send on a tweet quoting President Donald Trump earlier on Thursday, July 27 . The tweet was a snippet of Trump's speech to first responders to the June 14 shooting at a congressional baseball practice that left Louisiana Rep. Steve Scalise and others injured. But whoever runs the White House's Twitter account forgot to add some important details -- namely, clarifying punctuation. And the way the tweet was worded sent some people into panic mode.
Devoid of punctuation marks -- which makes the tweet essentially devoid of context for those who may not be up on Trump's day-to-day schedule -- the tweet reads like something being said to or about Trump and law enforcement.
There is a significant number of people out there who worry that the Trump administration uses fascist techniques, so a devotional tweet to a head of state and to law enforcement would be horrifying in that context.
But the collective panic and confusion it set off also speaks to how quickly fake news can disseminate on both sides of the political aisle.
After all, it's just a poorly worded tweet, not an ode to nationalism.
Trump is the one who said these words to the first responders who helped save Scalise's life after he was shot on June 14. But for those who are already anti-Trump, the tweet just plays into their confirmation bias.
Some are taking the news better than others.
Despite those who are joking about the confusion, the number of replies expressing concern about dictators and propagandist speech is continuing to grow.
It's possible that someone will screenshot this tweet and add it to a generic leftist Facebook group, as "proof" that the president is definitely a fascist. Fake news happens on both sides of the aisle and has a very real, very negative impact on our ability to parse what is real, and what is not.
The tweet is also indicative of the generally slapdash nature of the Trump administration with hirings and firings, inappropriate (and possibly fake) fan letters during the daily press briefing, and social media strategists who violate ethics policies.
So it's perhaps not a surprise that something so accidentally alarming would come out of the official White House Twitter account.