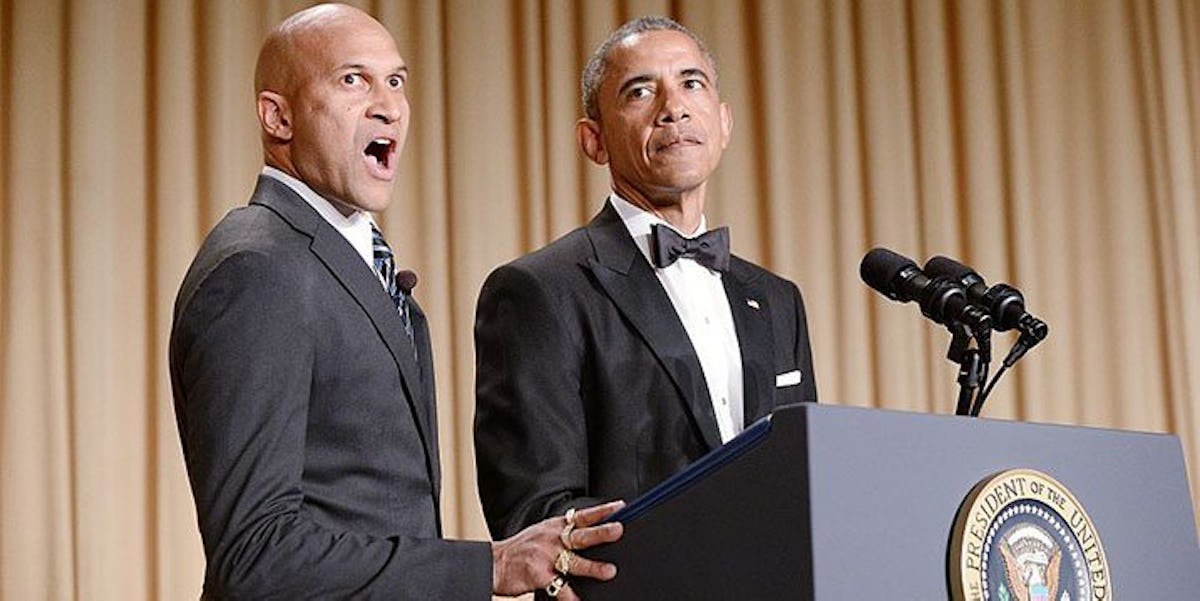 Obama's Anger Translator Hysterically Returns And Doesn't Hold Back On Trump
Olivier Douliery-Pool/Getty Images
If you've been wondering what former president Barack Obama actually thinks about current president Donald Trump, this might be as close of an interpretation as you're going to get.
During an appearance on the Late Show with Stephen Colbert, comedian Keegan-Michael Key provided Obama's anger translation when he was asked to interpret what Obama really wanted to say when he responded to Republicans' efforts to repeal the Affordable Care Act.
In a rant delivered with animated anger that totally can't be captured by written quotes, Key said,
Trumpcare! More like 'Trump Don't Care! ...I would say you people make me sick, but I can't afford that because I wouldn't have no damn insurance.
Check out the video below.
Of course, it wasn't exactly Key who went on the rant. It was one of his old characters, Luther.
Luther was Obama's "anger translator," who most notably appeared alongside the former president during a monologue at the 2015 White House Correspondents Dinner.
While Obama spoke in his usually measured and cool tone during the event, Luther did the dirty work, giving the audience a real piece of what Obama (most likely) thinks when he's actually angry.
It'd be no surprise if Obama himself was dying for an anger translator these days, either.
Aside from the question of whether or not Trump's agenda is good for America, there's been no questioning the fact that many of the current president's policies are aimed at undoing much of what the Obama administration's work.
The (thus-far failing) effort to repeal Obamacare is a no-brainer among the list, but there have also been Trump policies that take the complete opposite stance of Obama's on climate change and education.
So, it was fitting that before rounding out his rendition, Key -- er, I mean, Luther -- said,
Everyone of y'all in the White House has lost your damn mind! I'ma tell you one last thing: I thought I was on a forced retirement y'all, but it look like Obama still need me, so I am back.
I mean, Obama probably agrees.