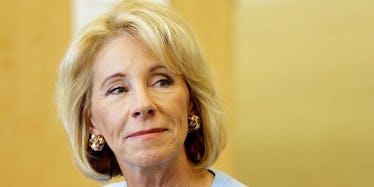 Betsy DeVos Just Made It Easier For Loan Companies To Screw Your Over Again
REUTERS
When it comes to reforming the way you pay back your loans, you can now expect less from the Department of Education.
On Tuesday, education secretary Betsy DeVos ordered a withdrawal from an Obama plan that called for the government to incentivize "high quality, transparent and consistent servicing for borrowers," and create "meaningful consequences for vendors who come up short."
Nevertheless, DeVos sent a note to the Federal Student Aid office to revoke the plan.
The note read,
This process has been subjected to a myriad of moving deadlines, changing requirements and a lack of consistent objectives. We must promptly address not only these shortcomings but also any other issues that may impede our ability to ensure borrowers do not experience deficiencies in service. This must be done with precision, timeliness and transparency.
She then makes it clear that she wants each referendum made by the Obama administration revoked.
The Obama plan was outlined last year in response to complaints to the Consumer Financial Protection Bureau (CFPB), the Washington Post reports.
Those complaints included charges of misplaced paperwork, unexpected charges to accounts and delays in payment processing, all while millions of borrowers defaulted on their loans.
To address the problem, Obama's education secretary John King wrote three memos to the Federal Student Aid office, making a long list of requests that sought to improve customer service.
One demand was that companies be encouraged to help borrowers avoid delinquency.
That particular section of a memo (from the Obama administration) read,
FSA should provide targeted incentives based on the performance of borrowers identified by FSA as being at a greater risk of default when they separate from school to help ensure at-risk (defined further in this document) borrowers achieve positive outcomes before reaching delinquency.
Of course, there's nothing wrong with tearing up a plan that "aims" at protecting consumers if that plan isn't a solid one. After all, good intentions alone don't justify bad policies.
If they're bad, they're bad.
However, DeVos failed to specify what exactly made the Obama effort disappointing.
In addition, she did not replace the policy she's revoking, nor did she reveal any plans to do so, even though she says the shortcomings must "promptly" be addressed.
That's why the Department of Education is left open to criticisms like the one Elizabeth Warren hurled at DeVos on Wednesday.
The timing makes the optics much worse.
Just last week, the loan industry had been lobbying for policy changes, Bloomberg reports.
After DeVos' announcement, the price of Navient's shares increased by 2 percent, Bloomberg also pointed out.
Meanwhile, as DeVos' pretty preaches cutting budgets, news also emerged this week her department is now being quoted nearly $1 million per month for security, despite the fact that the department already has an in-house security team.
So much for saving money.
Citations: DeVos Undoes Obama Student Loan Protections (Bloomberg)