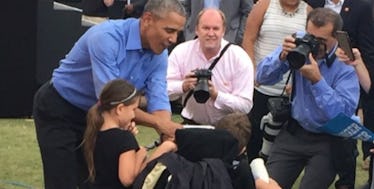 Obama Meets Trump Protester With Cerebral Palsy
Twitter
J.J. Holmes, a 12-year-old boy with cerebral palsy, joined the growing list of anti-Trump protesters -- and then got to meet President Barack Obama.
Holmes uses a wheelchair to move and a computer vocalization device to speak.
Through the device, he told his mother, Alison, that he wanted to go to a Donald Trump rally in Tampa, Florida, last Saturday.
J.J. didn't want to go to support Trump. He wanted to protest.
Kimberly DeFalco, a reporter, wrote on Facebook,
JJ is passionate about politics and concerned about the future of all humans but especially those with disabilities.
This is especially reasonable given that at the start of his campaign last summer, Trump made fun of a reporter with a disability and has yet to apologize for doing so.
So Alison drove her children two hours out to Tampa. J.J. started protesting at the Trump rally and the Holmes family began chanting Hillary Clinton's name.
Trump then ejected them from the rally.
Alison wrote on Facebook,
When JJ started his demonstration -- he was saying Dump Trump and Trump mocks the disabled -- Trump laughed about JJ's communication device being drowned out by the chants of his supporters (typical small-minded boast by Trump) although Trump is correct, they did, which is why my older daughter and I then joined in with JJ's chant. We were pushed and kicked by the Trump supporters, called insulting names and sneered at.
This is corroborated by a report from the Trump rally by Kate Bradshaw in Creative Loafing, a Tampa Bay paper. Bradshaw wrote,
Protesters get kicked out; it's actually a mother and her children, one of whom who has cerebral palsy and worries what a Trump presidency would mean for people with disabilities. Supporters kick at the family, including the boy's wheelchair, as Secret Service tries to escort them out.
This is in stark contrast to how Obama treated a protester at his rally last week. Obama told the crowd they had to allow the protester to have his free speech. He added his signature line,
Don't boo. Vote!
After getting kicked out of the Trump rally on Saturday, the Holmes family wanted to go see Obama's rally for Clinton in Orlando on Sunday.
DeFalco had appealed to Facebook to ask if there was a way for J.J. to meet Obama, one of his heroes.
Valentina Pereda, Florida press secretary for Hillary for America, was contacted and managed to set up a meeting.
Obama spoke on Sunday, and then he met J.J.
Pereda wrote on Facebook,
JJ's mom tells him he's going to meet the President. The rest is indescribable.... JJ jumps out of his seat and erupts into cheer... his smile almost bursting out of his face. His body overcome by light, when just the day before it almost succumbed to hate.
The moment was captured on video and shows J.J. posing for pics and chatting with Obama.
Through the vocalization device, J.J. told Obama,
I hate Donald Trump.
Photos show J.J. and Obama with big smiles on their faces.
For her part, Clinton has laid out a plan for people with disabilities. The election is on November 8.
Elite Daily and 50 other media organizations partnered with Rock The Vote to register 100,000 women to vote. You can register right here (and men can use it too) :
Citations: Tampa Bay Creative Loafing, Huffington Post