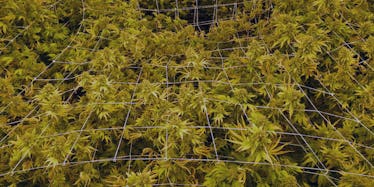 Nevada's Governor Declares A Weed Emergency In The State — Yes, Really
Ethan Miller/Getty Images
Nevada has a drug problem.
The state sold so much marijuana in its first week of legal sales, which began July 1, that Governor Brian Sandoval endorsed a statement of emergency (not to be confused with a "state of emergency").
In short, a state is running out of marijuana, and that's considered an emergency. What a time to be alive!
As a result, the Nevada Tax Commission is meeting on Thursday, July 13, to discuss whether the state has enough wholesale marijuana distributors, NPR reports.
Emergency regulations could be put in place, which could potentially expand the number of distribution licenses available.
The current problem seems to be linked to the fact only companies that are licensed to distribute liquor in Nevada are permitted to bring marijuana to dispensaries.
This has reportedly limited the pool of distributors in a major way, and dispensaries point to it as the main cause of the pot shortage.
Pot is flying off the shelves in Nevada. Sales are high. Like, so high, man.
Dispensary owners apparently made an effort to prepare for the high demand for weed and overstocked, but apparently, it wasn't enough.
There are 47 licensed marijuana retailers in Nevada, and they reported twice as much business as they anticipated in the first week, the Associated Press reports.
In the first weekend of legal sales alone, there were more than 40,000 retail transactions, according to NPR.
The Las Vegas Sun reports the state made $3 million in revenue and $500,000 in tax revenue in the first four days of legal recreational sales. This puts Nevada on pace to make $30 million in the first six months of legal sales.
But, based on the current rate of sales, as well as sales in other states, it could be even more.
Last year, sales in the legal marijuana market in North America totaled $6.7 billion. In Colorado alone, sales were more than $1 billion in 2016.
Recreational marijuana is currently legal in eight states and Washington D.C.
Based on how well the legal marijuana industry is currently doing -- and public support for legalization --it's safe to say there are strong incentives for other states to legalize as well.