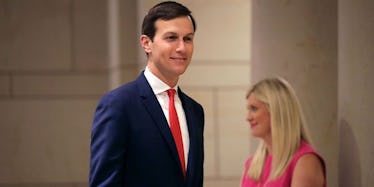 We Need To Talk About How Jared Kushner Reportedly Got Into Harvard
Chip Somodevilla/Getty Images
With the topic of affirmative action at universities back in the news in relation to the Trump administration, it's difficult to avoid thinking about how Jared Kushner got into Harvard University. It's reportedly a bit of a shady story. Kushner, son-in-law and senior adviser to President Donald Trump, supposedly bought his way into the elite university, according to some accounts.
On Tuesday, Aug.1, it was reported the the Trump administration might be planning to take a new look at affirmative action programs at universities and potentially sue if it determines white applicants had been discriminated against, according to The New York Times. This is arguably extraordinarily unnecessary, given research shows white women are the greatest beneficiaries of affirmative action and there's no concrete evidence to support the notion that white people are broadly being discriminated against,
Perhaps the White House should also investigate cases like Kushner's, or instances in which money, not merit, seemed to be the key factor in an individual's admission to a university.
Roughly a decade ago, ProPublica editor Daniel Golden wrote The Price of Admission, a book about how wealthy, underachieving kids essentially purchase their way into elite institutions. One of the individuals he examined was -- you guessed it -- Kushner. Elite Daily reached out for comment from Kushner on this story, but did not hear back at time of publication.
According to Golden, Kushner's wealthy New Jersey real estate developer father, Charles Kushner, pledged $2.5 million to Harvard University in 1998, not long before his son was accepted to the elite school. Around the same time, Golden claims Charles visited Neil Rudenstine, then the president at Harvard, and discussed providing the funds for a scholarship program for low and middle-income students.
The book also quotes administrators from Kushner's high school -- The Frisch School in Paramus, New Jersey -- one of whom said, "There was no way anybody in the administrative office of the school thought he would on the merits get into Harvard." The administrator said Kushner's GPA and SAT scores "did not warrant it."
The administrator added,
We thought for sure, there was no way this was going to happen. Then, lo and behold, Jared was accepted. It was a little bit disappointing because there were at the time other kids we thought should really get in on the merits, and they did not.
When Kushner was accepted to Harvard, Golden notes, only about one in nine applicants were admitted.
This possible review of affirmative action programs, as reported, is not only unnecessary, it arguably reveals how hypocritical the Trump administration is.
The only conceivable justification the Trump administration could put forward in relation to its alleged plan to review affirmative action programs is that applicants to universities should be judged solely upon a meritocratic basis.
But Kushner, one of the top officials in the Trump administration, was apparently a subpar student who more or less purchased an education at one of the country's top universities. Not to mention, many people view the influence and power Kushner has in the White House to be a prime example of nepotism.
Long story short, if the Trump administration truly is worried about people rising up in the world without really earning it, perhaps it should take a look in the mirror.