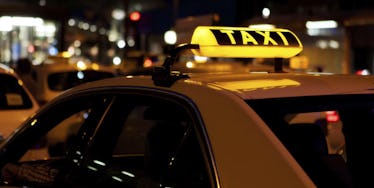 Muslim Cab Driver Shot By A Passenger Says The Attack Was A Hate Crime
Getty Images
On Thanksgiving, a Muslim cab driver was shot by a male passenger in Hazelwood, a neighborhood of Pittsburgh, Pennsylvania.
According to the Pittsburgh Post-Gazette, the victim and leaders from The Islamic Center of Pittsburgh are describing the incident as a hate crime.
The driver was a 38-year-old immigrant from Morocco who did not provide his name over fear for his safety.
At approximately 1 am on Thursday, the driver reportedly picked up the passenger and proceeded to drive him to his destination. On the way, the passenger allegedly began questioning the driver about his origins and asked him if he was from Pakistan.
The driver said he told the man,
No, I'm from Morocco. But I'm an American guy.
The passenger apparently took a more aggressive tone after this and mentioned ISIS.
The driver said,
Then [the male passenger] continued the conversation. He began to speak about ISIS killing people. I told him 'Actually, I'm against ISIS. I don't like them.' I even told him that they are killing innocent people. I noticed that he changed his tone and he began to satirize Muhammad, my prophet, and began to shift to his personal life. He mentioned that he has two kids and was in prison for some time.
When the taxi arrived at a house, the man allegedly told the driver he left his wallet inside and needed to retrieve it.
But when the man came outside, he wielded a rifle. The driver said he immediately began driving away as the man opened fire, apparently firing several shots.
As the driver fled, one of the bullets struck him in the back. Eventually, he pulled over and called for help. He remains in the hospital but is reportedly in stable condition.
The driver said he does not seek revenge against the shooter as his faith does not condone it. He's reportedly three months away from becoming a US citizen and expressed gratitude toward America. He said,
This [incident] is due to the person, not the city. Pittsburgh is my style, it is like my hometown [Safi] in Morocco. My dream is to be an American. This is a unique nation. Here in America I have achieved what I could not in Morocco. Here I learned how to drive. Here I easily get a job with health benefits. All aspects of life. Cleanliness. This is my country. I am proud to say I am American, but I didn't have the chance to say that to him. In our religion, Islam, we forgive, even in such conditions. I learned this from our prophet Muhammad. We don't take revenge. I could forgive this, but I still want my rights.
Wasi Mohamed, executive director of the Islamic Center of Pittsburgh, spoke to the Pittsburgh Post-Gazette about the troubling incident. He said,
Very simply, this is a hate crime and it must be treated as such. It is heartbreaking to see a horrible crime such as this committed in Pittsburgh, a city that on the surface is making attempts to be more welcoming.
The investigation surrounding the shooting is still ongoing. Greg Heeb, a spokesman for the FBI in Pittsburgh, said the bureau is looking into the incident, adding,
All I can really say is that we evaluate all crimes that appear to be racially motivated.
The shooting was not officially designated as a hate crime yet, but it occurred at a time when the country is palpably divided over a number of issues.
In the wake of the Paris attacks, tensions have been particularly high over the subject of Syrian refugees.
A majority of Americans expressed opposition to President Obama's plan to accept 10,000 refugees from Syria over the course of the next year.
This is due to fear over the prospect of ISIS taking advantage of the situation and sneaking in among refugees.
Experts contend this scenario and the threat it poses are exaggerated. Correspondingly, some argued much of the animosity toward refugees is a product of Islamophobia.
It's notable around 30 percent of Americans view Islam as an inherently-violent faith, and hate crimes against Muslims continue to be five times more common today than prior to 9/11.
Citations: Muslim taxi driver shot on Thanksgiving in Hazelwood calls attack a hate crime (Pittsburgh Post-Gazette)