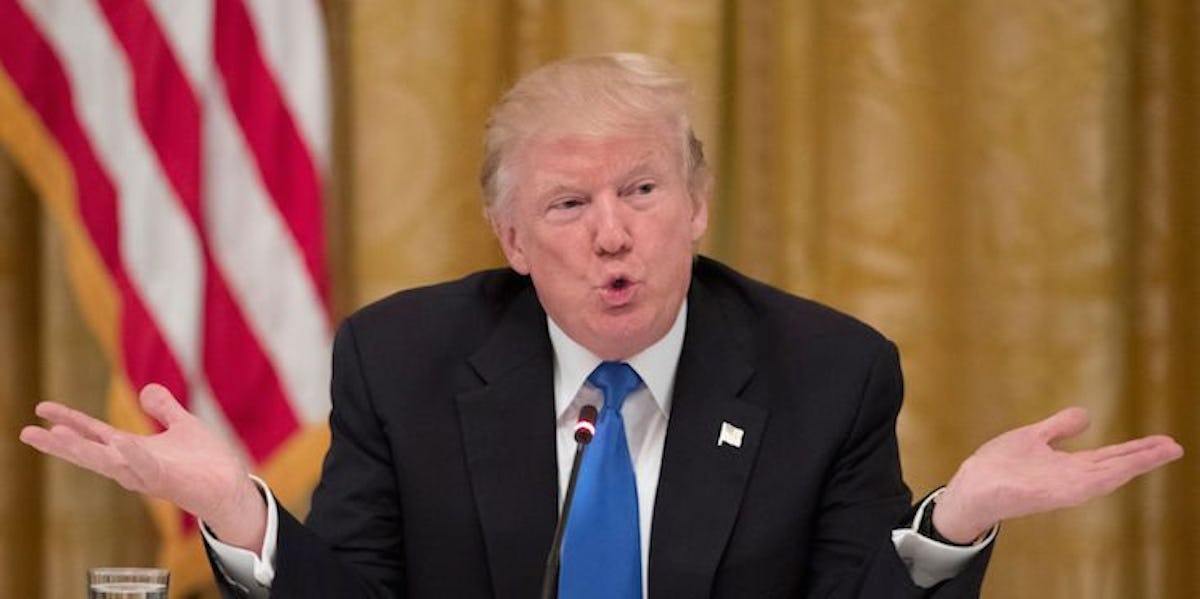 How Much Trump Tweeted About "Fake News" Vs "Jobs" In First 6 Months Says So Much
Pool / Getty Images
Do you ever wonder what President Donald Trump's tweets really signify?
This online Twitter archive keeps tabs on all the tweets sent from Trump's account, and the numbers are staggering. In fact, the amount of times he tweeted about "fake news" is about double what he tweeted about "jobs." After taking a glance at his tweets, things look pretty grim.
This isn't much of a surprise for anyone who follows the president on Twitter. You've probably noticed patterns about what he's tweeting about the most, and when.
For example, while his White House counselor Kellyanne Conway appeared on morning news shows defending Donald Trump Jr. during his speculated Russia involvement, President Trump tweeted about Putin nine times.
We analyzed the president's Twitter account by searching for specific words he used in his tweets in the last six months, beginning with his inauguration on January 21, 2017 and ending on July 20, 2017.
If Trump is really prioritizing American families and their wellbeing, he's certainly not showing it on Twitter.
Since January 21, Trump has tweeted the word "jobs" 45 times. (Fun fact: No fewer than nine of those tweets used the classic Trumpian style of all-caps in triplicate, "JOBS! JOBS! JOBS!" just for emphasis.)
Expanding the search terms to more general topics is hardly comforting. For "economy," there were only six. "Manufacturing" was mentioned five times. "Coal" and "steel" had only two and four tweets, respectively, and "labor" was mentioned only once, in an overlap.
Out of 10 tweets that mentioned "money," none of them made any reference to dollars in Americans' pockets.
Those looking for reassurance that he's outspoken and standing by American families will find no comfort in the fact that he tweeted only five times about "families" --  and three of those were in reference to sending "thoughts and prayers" to victims. Only two tweets used the word "children," and one of those was in reference to his own.
By contrast, he's tweeting a lot more about "fake news."
Compare these numbers to the number of times he's tweeted about media in the same timeframe. "Fake news, "fake media," or some combination pertaining to "fake" and journalism tallied 82 times. That's almost double the amount of tweets containing the word "jobs."
So, about Russia...
Since the inauguration, Trump tweeted 58 times using "Russia." This includes seven times about Russia, 17 times about "Comey," and 12 times about "Witch Hunt."
Let's hope that what he's tweeting isn't necessarily indicative of his priorities as the president.