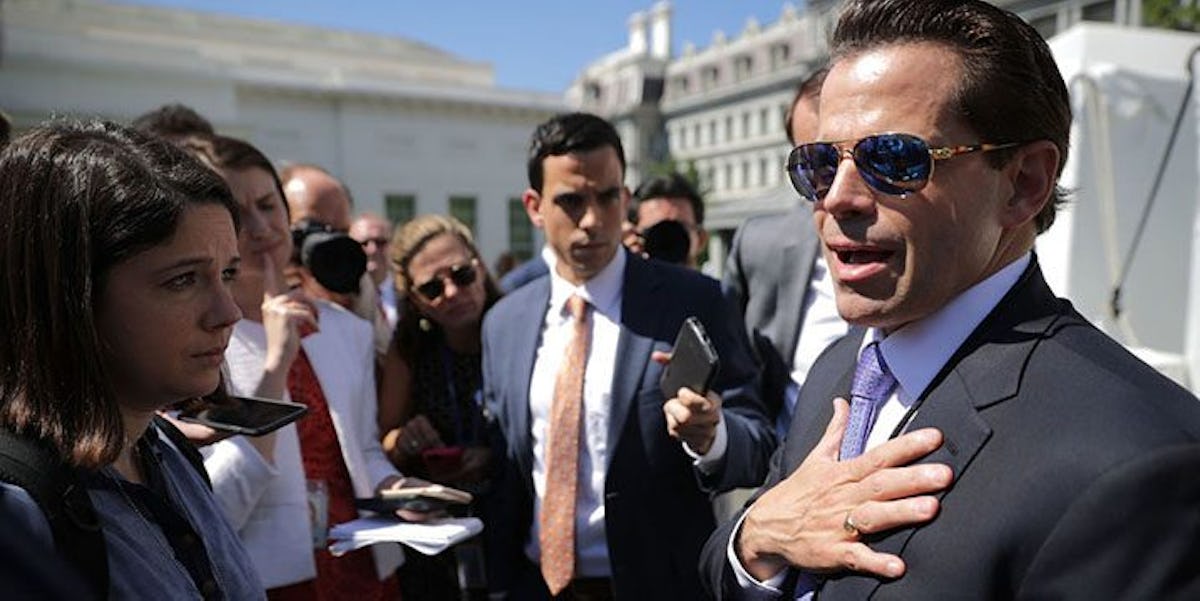 The Mooch Complained About Being Recorded And Everyone Made The Same Joke
Chop Somedevilla/Getty Images
If you thought we'd heard the last of Anthony Scaramucci, think again. The former White House communications director was the topic of conversation again on Wednesday night, Aug. 10, after he went out of his way to publicly criticize a reporter. In the process, Anthony Scaramucci compared himself to Monica Lewinsky and immediately prompted a wave of jokes as a result.
It all started after Scaramucci took to Twitter to shade the New Yorker's Ryan Lizza, the journalist who wrote the infamous interview in which Scaramucci went on a vulgar rant against his then co-workers, namely former White House chief of staff Reince Priebus and White House chief strategist Steve Bannon.
Scaramucci tweeted,
[Ryan Lizza] is the Linda Tripp of 2017. People know. And he is up at night not being able to live with himself.
Linda Tripp is a former Pentagon staffer who recorded phone conversations with former White House intern Monica Lewinsky as Lewinsky divulged details of her sexual relationship with former President Bill Clinton.
Clinton's conduct during an investigation into the relationship would eventually lead to his impeachment. So, it's a politically relevant comparison, but also a pretty bizarre one, for obvious reasons.
In the analogy that Scaramucci laid out, the former White House communications director would be the Lewinsky of the situation. In other words, Scaramucci chose a pretty weird way to defend himself -- and a pretty sure way to ensure people would point out the same thing about his comment.
Even Monica Lewinsky herself couldn't help but notice how bizarre The Mooch's tweet was.
Oh, and just so we're clear, Lizza is nowhere near the "Linda Tripp of 2017."
Tripp was a friend of Lewinsky who practically baited Lewinsky into giving details that would eventually be handed over to an independent investigator. Lizza is a journalist whose actual job it is to document newsworthy things he learns from government officials, unless said officials ask to be off the record, which Scaramucci did not.
And thank God he didn't, by the way, because we might have never gotten the single most hilarious quote ever from a White House staffer in reference to a co-worker.
The Mooch, everyone. The Mooch.