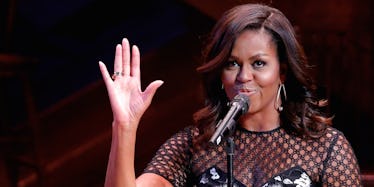 These Thank You Notes To Michelle Obama Make It Even Harder To Say Goodbye
REUTERS
In less than one hundred days, Michelle Obama will be leaving the White House after spending eight years there.
The First Lady has been a true role model for many people around the country. She has been continuously graceful, even in the face of sexist and racist attacks made against her by the people her husband is serving.
Obama has stood up for #BlackGirlMagic, women's education around the world and the health of our nation. She put her career as both a lawyer and at the University of Chicago Medical Center aside to do her duty as the First Lady.
She has stood by her husband, Barack, laughing with him, supporting him and of course, giving him the side eye every president needs every so often.
And she has stood by her children, Sasha and Malia. All the while, she's been a truly excellent fashion icon (those arms!!!).
The New York Times Style Magazine gave the First Lady a lovely early send-off this week.
They included four thank-you notes from prominent people: author Chimamanda Ngozi Adichie, feminist leader Gloria Steinem, biographer Jon Meacham and actress Rashida Jones.
Ngozi Adichie, whose book "Americanah" featured a love story where the Obama presidency was prominent, wrote about Michelle's Democratic National Convention speeches in 2008 and 2016.
She wrote about how Obama had to "flatten herself" during the 2008 election after accusations that she was too smart and too angry, that she emasculated her husband.
Because she said what she thought, and because she smiled only when she felt like smiling, and not constantly and vacuously, America's cheapest caricature was cast on her: the Angry Black Woman.
But in 2016, Ngozi Adichie wrote, Obama was "relaxed, emotional, sentimental."
Her uncertainties laid to rest. Her rhythm was subtler, because she no longer needed it as her armor, because she had conquered.
Steinem wrote about how the Obamas' private relationship shaped the public role.
She said,
I have never seen such balance and equal parenting, such love, respect, mutuality and pleasure in each other's company. We will never have a democracy until we have democratic families and a society without the invented categories of both race and gender.
Meachem wrote about how Obama's coolness made her a success.
He wrote,
She was not Mrs. Roosevelt or Mrs. Carter or Mrs. Reagan or Mrs. Clinton, playing roles in affairs of state. Instead she did what the first African-American first lady arguably had to do to play a successful public role. In Voltaire's terms, she cultivated her own garden, never threatening and never intimidating her neighbors.
Jones wrote Obama "embodies the modern, American woman."
She said she represents a full vision of feminism, where women are more than a stereotype.
Jones wrote,
Her individual choices force us to accept that being a woman isn't just one thing. Or two things. Or three things. The position of first lady is, unfortunately, symbolic, and that makes it fair game for media analysis ad nauseam. But no think piece can fully encompass a real woman.
Although Michelle might be leaving the White House, she'll remain in our hearts and minds.
We don't know exactly what the Obamas will be doing next year, but here's hoping Michelle will still play a prominent role in our country.
Elite Daily and 50 other media organizations partnered with Rock The Vote to register 100,000 women to vote. You can register right here (and men can use it too) :
Citations: New York Times