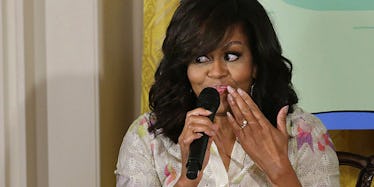 Michelle Obama Staffer Reveals What It's Like Working For The First Lady
Chip Somodevilla/Getty Images
If you've ever had questions about what it's like working for Michelle Obama, one woman has all answers.
That woman is Melissa Winters, Obama's long-time aide and current chief of staff.
In an account to Cosmopolitan, Winters described her journey alongside the former first lady, which began during the 2008 presidential campaign.
Winters said,
There were plenty of times where I felt like I was driving or flying around this country with a girlfriend, as opposed to a boss. So much of our conversation could veer off into reality television, or what movies we've seen, or what books we were reading. I cannot imagine working for someone you don't like or don't respect.
Winters started working for Obama the year before former President Barack Obama was elected into office.
When the Obamas entered the White House, Winters was appointed deputy chief of staff for the first lady. Here was what she said the job entails:
A large part of my job was taking care of the family. I made sure that the girls were enrolled in school, that they had internships in the summer and went to camp. I always was working for Michelle Obama the person, and then after that, I was working for Michelle Obama the first lady, because I didn't do any policy. I oversaw all the correspondence that came out of the East Wing.
Winters' details about working for Obama revealed as much about the first lady's personality as it did about the job.
When Obama was in a bad mood, there was a simple solution: "Just put her in a room with children. She loves kids."
Of course, there was one bad mood that didn't seem to have an easy fix, and that was the night that Donald Trump got elected. Winters was texting Obama when the first lady had decided that the best reaction to the news was to go to bed.
Now that the former first lady is out of the White House, the job of working as chief of staff for Obama has changed, Winters says.
These days, working for Obama means figuring out how to continue all of her work on education and for young girls, outside the walls of a presidency. Winters said,
How do we use these unbelievable opportunities that we have, and, frankly, with less constraints than we did in the White House, make them work for Mrs. Obama in this next phase of her life? A lot of what I do is making sure that she has the opportunities to continue to do the work that is so important to her.
Whether the job is outside or inside of the White House, one thing seems clear. Working for Michelle Obama is not a bad gig, at all.