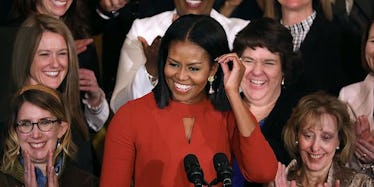 Michelle Obama Just Gave The Perfect Advice For How To Overcome Fear
Chip Somodevilla/Getty Images
Former first lady Michelle Obama made an appearance at Worldwide Developers Conference (WWDC) 2017, where she spoke about life after the White House and discussed gender equality in relation to the tech industry.
Obama said, "We are decompressing from what has been a decade journey that has been unbelievable. So we're breathing a bit."
She also assured everyone her husband is "doing well," and is "still there," which we all already knew (we've seen the vacation pics).
Amid the discussion, the former first lady gave some pretty solid advice about life and dealing with fear.
Obama said,
If we let [fear] consume us, then we don't move. If we allow fear to define one another, then we go down a very dark path. But [fear is] there. It's an emotion that we all feel, it just can't consume you.
She then expanded on how you can avoid letting fear "consume" you,
Take time to know yourself ... if you have a foundation of knowing who you are, knowing your values and being good with that... if you take some time to determine what your higher purpose is ... that stuff gives you a foundation that you can fall back on when fear, embarrassment, challenge, failure — when that comes, because it's coming and it's coming for us all. You have that to fall back on.
Beyond knowing yourself, Obama said overcoming fear is also about surrounding yourself with the right people,
You have to surround yourself with good people. I mean, we don't do this alone. None of us. We don't do this life alone ... you gotta have a team of people around you in some way, shape or form. And those people have to reflect your values. They have to be with you in that higher purpose ... they keep you grounded when fear sets in, when the failure that is inevitable comes your way.
In short: Know who you are, establish your values, recognize failure happens to all of us in some way, and surround yourself with people who will support you along the way.
Michelle Obama wants you to know that no one succeeds totally on their own.
In her discussion on fear, Obama put particular emphasis on recognizing that success does not occur independently.
She said,
Don't do this alone. I really want the young people to understand this: You do not succeed alone, you're not supposed to. If someone is up here pretending they got here on their own they're lying ... Make sure you surround yourself with that goodness that you want to reflect back into the world.
Watch the full video of her remarks below.