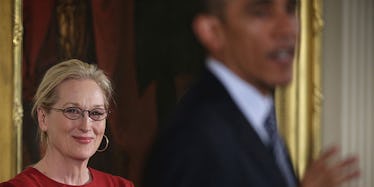 Meryl Streep's Purse Prove She Misses The Obamas More Than Any Of Us
Alex Wong/Getty Images
If you didn't know, the Obamas are close to Meryl Streep's heart.
Like, really, really close.
They're literally two feet under her heart, in fact, specifically a few inches below her hand, which holds the strap carrying the purse on which their faces are emblazoned.
Yup, that's Streep sporting Michelle-and-Barack-themed fashion while walking in New York City on set for an upcoming movie, according to HuffPost.
Clearly, the 68-year-old actress misses the former president and first lady more than anyone does. She'd also definitely fit right in with all the supporters who couldn't help but reminisce about the Obama years, as more Trump-related controversies hit the news this week.
Speaking of Trump, his relationship with Streep is not so lovey-dovey, safe to say.
It was only months ago that The Devil Wears Prada star turned her acceptance speech at the Golden Globes into a repudiation of Trump.
Without naming the president, she said,
Disrespect invites disrespect. Violence incites violence. When the powerful use their position to bully others, we all lose… We need the principled press to hold power to account, to call them on the carpet for every outrage. That's why our founders enshrined the press and its freedoms in our constitution.
Trump, in response, took to Twitter and fired back at Streep, calling her the "most over-rated actress in Hollywood."
Yeah, yeah, enough of that.
Anywho, just so we're clear, former President Obama seems to be just as much of a fan of Streep's as she is of him. During the 2014 ceremony in which he awarded her the Medal of Freedom, Obama said,
I love Meryl Streep. Her husband knows I love her. Michelle knows I love her. There's nothing they can do about it.
So now we know, the love flows on a two-way Streep.
(Don't worry, I'll see myself out.)