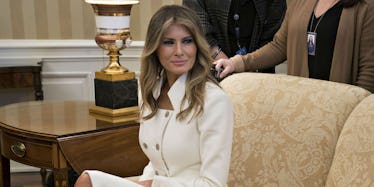 Melania Trump Reportedly Has "More Important Things" Than Trump Jr's Email Drama
Andrew Harrer-Pool/Getty Images
In light of recent Russia-related revelations, the White House is reportedly a freakin' mess. There are allegations floating around that Jared Kushner might be behind the email leak and that the Trumps want to fire Chief of Staff Reince Priebus.
Prompted by reports that first lady Melania Trump is getting involved in the West Wing drama -- particularly the possible removal of Priebus -- a source close to the first lady has given curious journalists a firm no, reportedly saying, "she has more important things to do," per CNN.
Well, that settles that. Kind of.
The source also said that the first lady "is consumed with her own initiatives, and palace intrigue is not something she bothers with."
But figuring out what, exactly, those initiatives are is a bit of a puzzler.
Historically, the role of first lady has been primarily to play social host to White House guests, but starting with Eleanor Roosevelt's tenure, first ladies have also taken on social reform projects. Contemporary first ladies tend to pick one (or several) causes about which they feel strongly. Hillary Clinton, for instance, took on health care, adoption reform, and global gender equality. Laura Bush had libraries, Michelle Obama tackled childhood obesity, food deserts, girls' education, and more.
And Melania Trump has cyberbullying. Or at least -- she was supposed to.
One week before the election, Trump made a speech about the negative effects of cyberbullying and effectively announced that would be her cause célèbre. She said,
Our culture has gotten too mean and too rough especially to children and to teenagers. [...] We have to find a better way to talk to each other, to disagree with each other, to respect each other.
But in the months since this announcement, she has done... nothing.
Leading anti-bullying groups have not heard from Trump or her office. And just last week, the Boston Globe reported that anti-bullying advocates fear that, with her husband's aggressive tweets, it's too little, too late.
So what else might she be busy with?
The same CNN report states that she sits in on some of the President's meetings and they discuss policy together. She was present for last week's meeting with Japanese Prime Minister Shinzo Abe, and she was asked to drag President Trump out of his over-schedule meeting with Vladimir Putin last week, per Reuters.
But other than that, it's a big ol' shrug emoji.
At least we know she's being honest that she doesn't get involved in staffing. She has reportedly hired only 10 staffers thus far -- which the First Lady's communications director Stephanie Grisham chalked up to her search for quality over quantity.