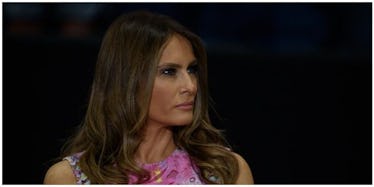 Melania Trump "Personally" Influenced This Ambassador's Appointment, Report Says
Justin Merriman/Getty Images
In the nearly eight months her husband has been president, First Lady Melania Trump has been... quiet. She has reportedly hired only 10 staffers and has yet to start working on a personal cause, as is tradition for first ladies. But according to a New York Magazine report, it seems that she is doing something with her time in the White House: Trump was "personally involved" in selecting the ambassador to Slovenia -- her home country.
The pick will apparently be Kelly Roberts, a California hotelier and GOP donor.
Roberts and her husband have donated more than $1.2 million to Republican candidates and committees in the past year, including $50,000 to Great America PAC, President Donald Trump's super PAC, last October. She is married to Duane Roberts, the inventor of the frozen burrito, and has two children from a previous marriage -- both of whom were on MTV's Laguna Beach.
Trump reportedly took great interest in helping pick the ambassador to the country where she was born and raised, and was given several dossiers to look over. But she felt strongly that the U.S.'s interests would be best represented by someone in the business community, and ultimately chose Roberts.
The news that Trump was involved in this decision is surprising to some, as critics have taken her to task for being quiet, and, at times, borderline invisible, as a first lady -- especially compared to Michelle Obama, who took on several causes and an incredibly active role in the White House.
In a speech just before the election, Trump initially vowed to make cyberbullying her cause célèbre if her husband was elected.
But many have noted that she has done just about nothing on that front -- least of all, reigning in her husband's nasty tweeting habit.
Trump does not shy away from her Slovenian childhood, calling it "beautiful," but placing it definitively in her past in an interview with GQ. "I love my childhood," she said. "It was a beautiful childhood."
So, just as I eat Wawa every time I go back to New Jersey, perhaps this is her way of reconnecting with the country that made her.