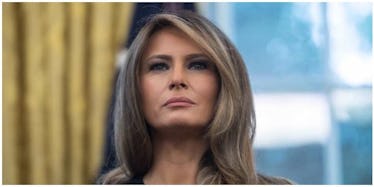 Melania Trump Is Not Happy About Those English Class Billboards With Her Face
NICHOLAS KAMM/AFP/Getty Images
Američki Institut promises small groups and native speakers at their English learning institute in Zagreb, Croatia. They recently drove home the benefits of learning English with a photo of Slovenia-born First Lady of the United States Melania Trump. "Just imagine how far you can go with a little bit of English," the billboard reads. Funny? Not to Trump. The ESL billboards were removed after Trump's legal team threatened to sue.
The billboards were put up on Friday, Sept. 15 and removed by Tuesday, Sept. 19, according to The New York Times.
One of Trump's lawyers, Natasa Pirc-Musar, told the Associated Press,
I'm satisfied with the fact that the school admitted that they violated the law and that they are ready to remove the billboards and [Facebook] ads. We are still analyzing possible further legal steps.
Pirc-Musar's law firm was, according to the AP, hired to protect Trump's image, which has appeared on several products, including tourism advertisements and cakes, in her native Slovenia. (Individuals have the right to protect their own likenesses and can therefore sue when someone is using their likeness without permission; the practice is relatively common for well-known models, actors, and other public figures.)
A spokesperson for the institute, Ivis Buric, apologized and told the AP, "We are very sorry that the billboards were misunderstood as something intended to mock the U.S. first lady. It was meant to be something positive, to show her as a role model."
But the image they chose could tell a different story.
Though edited, the image appears to be from Trump's speech at the 2016 Republican National Convention in Cleveland, Ohio, large parts of which, it was discovered shortly after her delivery, were plagiarized from former First Lady Michelle Obama's 2008 speech at the Democratic National Convention.
Trump's speech had a lukewarm reception in some pundits' eyes -- even before plagiarism accusations -- due, in large part, to her "halting" delivery and "lack of confidence" in the material, according to Time.
And several public figures mocked not only the plagiarized content of her speech -- but her accent, inferring that both the content and the delivery hinted at a lack of English skills and, for that matter, intelligence. The line of thought went, "She's so bad at English -- and so lacking upstairs -- that she had to steal from Obama." (A sentiment echoed by Chelsea Handler in January, when she said Trump "can barely speak English.")
It's perfectly acceptable to lambast her plagiarism, as it is a form of theft that one could argue shows the Trump administration's lack of care and willingness to cross ethical boundaries, even to avoid the smallest inconveniences.
But to mock the accent of someone for whom English is a second language is gross -- and by specifically connecting her accent to her perceived lack of intelligence, smacks of elitism and xenophobia. Mockery of  Trump's accent recalls the fact that accents can negatively affect perceptions of intelligence.
(And Trump, for what it's worth, is reportedly fluent in five languages, according to CBS News.)
So, using that picture, at least from where we're standing in the U.S., seems to echo those criticisms: learn just a little English, and you, too, could accidentally find yourself vastly wealthy. You, too, could do the bare minimum and trip your way into a singular position of power.
Whether purposeful or not, the choice of photo adds a layer of irony to the already tongue-in-cheek billboard, which literally emphasizes a little bit in "just a little bit of English."
Here is a photo of Trump at the RNC, delivering the now infamous speech:
And here is a photo of the billboard in Croatia:
Same hair, same microphone, same shape to the shoulders of her outfit.
Despite the ease with which one could assume mockery, Buric tried to clarify the intention of the billboards. She said,
There are different opinions about Melania Trump, but the fact is that she is the first lady. She had to do a lot, including delivering speeches in English and addressing huge crowds in a foreign language.
Buric said the campaign was "very successful" despite upsetting Trump and having to be removed after only a short while -- largely due to national and international media attention.