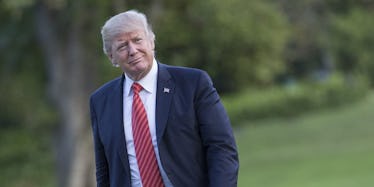 After Meeting With Trump, Democrat Says POTUS Is "Open To" Fixing Obamacare
Chris Kleponis-Pool/Getty Images
As a deadline for Republicans to reform health care comes closer, more attention is likely to be drawn by an all-important subject in Congress: Will Obamacare be repealed? Considering one Democratic lawmaker's recent comments, though, there might be an alternative subject to watch for: The prospect of President Donald Trump working to help fix Obamacare instead. On Wednesday, Sept. 13, Rep. Josh Gottheimer (D-NJ) said, per The Hill,
He was clearly open to it, intrigued.
Another lawmaker, Republican Rep. Tom Reed (NY) said,
I think the president was open to the conversation.
Gottheimer and Reed are members of the Problem Solvers Caucus, a group of 35 House lawmakers consisting of both Republicans and Democrats who have been working together on, among other things, a bipartisan approach to health care reform.
The conversation to which their quotes refer took place on Wednesday, when the caucus met with President Trump to present their plan to stabilize Obamacare markets, instead of repealing the health care law.
In the past, Trump has threatened action that would result in the opposite of stability. Last month, for instance, the president flirted with the idea of ending what are known as cost-sharing reduction (CSR) payments.
Those payments are made by the executive branch, and given to insurance companies to offset the losses those companies incur by providing low-cost health insurance as a result of Obamacare. Without those payments, some lawmakers, including a number of Republican governors, fear that only higher premiums would result. Trump eventually decided to pay for CSR in August.
On Wednesday, during the president's meeting with the Problem Solvers Cause, the bipartisan group pitched a plan that would fix certain parts of the Affordable Care Act (ACA) and get rid of parts of the law that both parties dislike, the New Jersey Herald reports.
Gottheimer told the Herald,
He looked through it, he had several questions. He seemed open and, I thought, actually had a positive reaction to it.
Trump not only discussed stabilizing Obamacare markets with the caucus, however. The president also touched on the subject during a meeting with Democratic congressional leaders Nancy Pelosi and Chuck Schumer.
The news of such openness to an Obamacare fix comes just as time continues to run out for any hope that Republicans could revive their plans to repeal the health care law using only Republican support.
The deadline to repeal the ACA via the specific mechanism by which they introduced it the repeal effort -- which was by reconciliation -- is Sept. 30. That means Senate Republicans have to the end of the month to try to reform health care by meeting only a 50-vote threshold (reconciliation requires 50 votes, as opposed to the usual 60 votes required to pass law in the Senate).
On Wednesday, Republican Sens. Bill Cassidy (LA) and Lindsey Graham (SC) introduced a last-ditch effort to repeal the ACA. Graham told reporters,
It should have been our first bill to repeal and replace Obamacare, but it is now our last. To those in the Republican Party who feel like we have not fought as hard as we could, you're right.
President Trump showed support for the effort as well, saying in a statement from the White House on Wednesday,
My administration has consistently worked to enact legislation that repeals and replaces Obamacare and that can pass the Senate and make it to my desk. As I have continued to say, inaction is not an option, and I sincerely hope that senators Graham and Cassidy have found a way to address the Obamacare crisis.
If a repeal bill doesn't make it to his desk however, it's clear that the president isn't adverse to at least hearing bipartisan proposals on fixing Obamacare.