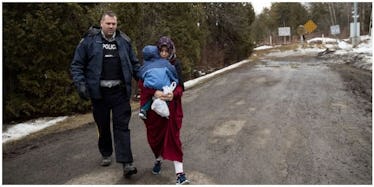 So Many People Are Fleeing The U.S., Canada Opened An Olympic Stadium To House Them
Drew Angerer/Getty Images
Donald Trump has made it clear: refugees are not welcome here. The 45th president has made numerous anti-immigration statements, threatened to revoke protected status for asylum seekers from several nations, discussed lowering the ceiling for both refugees and immigrants, and recently announced that he is considering switching to a "merit-based" U.S. immigration policy.
As a result, many, fearing deportation, have sought asylum in Canada, per a CTV report.
So many, in fact, that Canada re-opened the Montreal Olympic Stadium as temporary housing.
Many of the migrants currently coming into Canada are Haitian, which is unsurprising, after the May announcement that Trump would seek to end their temporary protected status in the U.S. after the six month extension to January 2018. Revoking this status could mean deportation for more than 50,000 Haitians now living in the U.S. after the 2010 earthquake devastated what was already the poorest nation in the Americas.
There will be between 150 and 400 beds available at the stadium, as well as showers and food, according to CTV News in Montreal, to accommodate the roughly 200 migrants who cross the border every day at Saint-Bernard-de-Lacolle, just across from Northern New York.
According to the CTV report, there were almost 4,500 illegal border crossings into Canada in the first six months of 2017 -- most of whom were from Haiti, Sudan, Turkey, Eritrea, and the United States.
Asylum seekers and refugees are legally distinct terms, it should be noted.
Asylum seekers have applied for protected status after fleeing their countries; refugees are legally determined to be unable to return to their home countries.
This news comes after an influx of asylum seekers found themselves at the Canadian border -- including almost 70 individuals who sought asylum in Canada after Trump announced his travel ban targeting Muslims -- many of whom are now in legal limbo, per The Guardian. Even the number of U.S. citizens seeking refuge in Canada has increased, nearly doubling since 2015, according to Public Radio International.
And it might just get worse with the recent news coming from the White House.
Trump announced on August 2 that he's looking to make adjustments to immigration and refugee policies, prioritizing those who "speak English" and don't need financial assistance.
But many who come to the U.S. through the refugee program or as asylum seekers are employed and independent within six months to a year. Many programs, such as Refugee Cash Assistance, are temporary measures to help vulnerable people get on their feet -- and most of the resettlement leg work comes from private nonprofits, such as Catholic Charities. In fact, the average resettlement period is six months.
With the way the Trump administration talks about immigration and refugees, people of color, and non-Christians, it's no wonder so many feel compelled to seek shelter elsewhere. The tired, the poor, and the huddled masses whom the Statue of Liberty claims are starting to turn elsewhere in Trump's America.