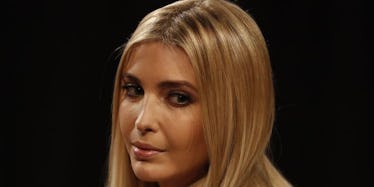 Leaked Email May Prove Nordstrom Lied About Dropping Ivanka Over 'Poor Sales'
REUTERS
Last Thursday, Nordstrom announced it would no longer be carrying Ivanka Trump's line of clothing, handbags, shoes and accessories.
The company said this was due to poor sales, and was strictly business.
In an email to Fortune about this development, Nordstrom stated,
We've said all along we make buying decisions based on performance. In this case, based on the brand's performance, we've decided not to buy it for this season.
But two days before Nordstrom dropped Ivanka's line, the company's three presidents sent an email to all company staff criticizing President Donald Trump's controversial travel ban, Daily Mail reports.
The email, obtained by the Seattle-based newspaper "The Stranger," said,
We literally have thousands of employees who are first and second generation immigrants. Every one of your unique qualities brings a richness that allows us to better reflect and serve the multi-cultured communities we're a part of and ultimately makes us a better company. We are a better place with you here, no doubt about it. It's important that we reiterate our values to all of you and make it clear that we support each of our employees. We will continue to value diversity, inclusion, respect, and you can count on that.
Does this imply Nordstrom actually dropped Ivanka Trump's line for political reasons?
It's hard to say.
Ivanka Trump's line has been boycotted by many for months, especially after the release of the "Hollywood Access" tape, in which Donald Trump was heard bragging about sexual assault.
This tape, combined with the fact that multiple women have accused President Trump of sexual assault, directly prompted the "Grab Your Wallet" movement.
"Grab Your Wallet" was started by Shannon Coulter back in October.
She asked women to boycott the Ivanka Trump Collection because Ivanka refused to denounce her father's actions and statements toward women.
This movement appears to have been quite effective.
So, it's a bit hard to say Nordstrom dropped Ivanka Trump's line simply because of the travel ban, given there's been controversy surrounding her complicity in President Trump's misogyny for months now. Nordstrom could've dropped her a long time ago for political reasons.
Instead, it seems politics did indeed induce poor sales, which led Nordstrom to drop Ivanka's line.
Politics surely played a role, but there isn't enough evidence yet to claim it was the sole reason Nordstrom made this choice.
Citations: An Exhaustive List of the Allegations Women Have Made Against Donald Trump (The Cut), Before Nordstrom Cut Ties with Ivanka, Its Three Presidents Sent This Memo About the Muslim Ban to Employees (The Stranger), Nordstrom bosses sent strongly worded memo criticizing President Trump's Muslim travel ban to all staff TWO days before dropping Ivanka's line (DailyMail.com), Nordstrom Is Officially Dropping the Ivanka Trump Brand (Fortune)