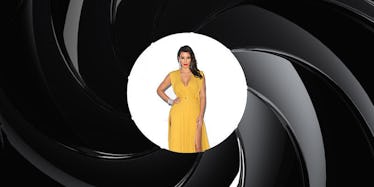 Kim Kardashian West Was Basically Just Accused Of Being A Secret Agent
Alec MacDonald
If you think Kim Kardashian West is corrupting the minds of today's youth, it seems you have something in common with the Iranian government.
The Organized Cyberspace Crimes Unit of the Iranian Revolutionary Guards Corps is reportedly very unhappy with Kardashian's Instagram activities.
The unit is accusing her of using the social media platform to deliberately target young people with her provocative posts in an effort to undermine the Islamic lifestyle of Iran, PEOPLE reports.
According to unit spokesman Mostafa Alizadeh, Kardashian is working alongside a foreign government.
On an Iranian news program on Sunday night, Alizadeh reportedly stated,
[Foreign powers] are targeting young people and women [with Instagram]. Foreigners are behind it because it is targeting families. These schemes originate from around the Persian Gulf and England. When you draw the operational graph, you will see that it is a foreign operation.
Alizadeh then went on to say Kardashian is being directed by the CEO of Instagram to make fashion modeling popular in Iran.
He said,
Ms. Kim Kardashian is a popular fashion model so Instagram's CEO tells her, 'make this native.' There is no doubt that financial support is involved as well. We are taking this very seriously.
In essence, an agency of the Iranian government just accused Kim Kardashian West, reality TV star, entrepreneur, mother and wife to rapper Kanye West, of being a secret agent.
If you're surprised to hear about this, so is Kim K. When PEOPLE asked her about these allegations at the Cannes Film Festival, she said,
What? For who? I just landed and came here [from the airport]. I have not heard that one. Thanks for the heads-up.
While all of this sounds ludicrous (because it is), it's not uncommon for the Iranian government to accuse people (particularly journalists) of some form of espionage without any valid evidence.
Correspondingly, eight people were recently arrested in Iran for the crime of posting "un-Islamic" photos. These people, likely women, were deemed criminals for posting photos on Instagram in which at least some appeared without headscarves. Women are required by Iranian law to cover their hair in public.
Citations: Iranian Officials Accuse Kim Kardashian West of Being a Secret Agent Working to Corrupt Young People and Women: Report (PEOPLE), Kim Kardashian, the Infiltrator (IranWire), What Iran Fears From Reporters Like Jason Rezaian (The New York Times), Iran arrests eight for 'un-Islamic' Instagram modelling (BBC)