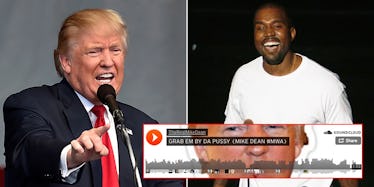 Kanye's Producer Samples Trump's 'Grab Them By The Pussy' In Epic Smackdown
Reuters/Reuters
There's no two ways about it: Donald Trump is public enemy one, two and three right now.
He's practically the most hated man on the internet right now, and Martin Shkreli has nothing on him.
And that's not my opinion. I'm just spitting facts.
Anyway, you know what happens to hated people? Well, they get hated on in many different forms, even musically.
And that's what we have right here before us: a musical assault of the Donald.
From the mind of music producer Mike Dean — most noted for his work with Big Sean and Kanye West, among others — comes a remix titled (you guessed it) "Grab Em By Da Pussy."
Along with some of Trump's most vulgar comments, Dean even sampled from the USA Freedom Kids' performance they did at the Republican nominee's rally back in January.
If anything, this song shows just how much of an open season it is on Donald Trump right now. You could literally say anything about this man and get away with it.
I mean, Robert friggin' De Niro is out here in viral videos saying he wants to punch Trump in the face. And that was actually one of the nicer things he said.
Here are a few of De Niro's comments:
I mean he's so blatantly stupid. He's a punk. He's a dog. He's a pig. He's a con, a bullshit artist, a mut who doesn't know what he's talking about, doesn't do his homework, doesn't care... Colin Powell said it best, he's a national disaster, he's an embarrassment to this country. It makes me so angry that this country has gotten to this point that this fool, this bozo, has wound up where he has.
I WOKE UP TO A VIDEO OF THE LEGEND ROBERT DeNIRO SAYING HOW HE WANTS TO THROW THEM HANDS WITH DONALD TRUMP. pic.twitter.com/AihXep7i7e — The Low Key Legend (@CoryTownes) October 8, 2016
Even Tic Tac, for the love of God, came out with a statement against Trump's comments.
As for actual politicians? Well, a not-so-insignificant number of Republicans are scrambling to distance themselves from Trump like...
Yeah, 2016 has been one helluva year.
Citations: Pitchfork