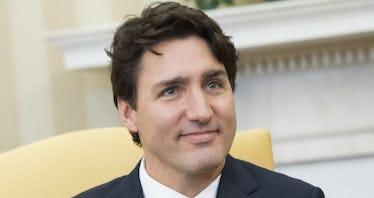 Video Of Justin Trudeau Celebrating Women's Day Will Make Your Ovaries Explode
REX
In case you didn't already know how much I love Justin Trudeau, I'm here to remind you I wholeheartedly wish to marry this man one day.
(It is irrelevant that he is already married and has children, and I am in my own happy, long-term relationship.)
Today is International Women's Day, and because he's perfect in every way, shape and form, the Prime Daddy Master of Canada, or... Minister Daddy... whatever-the-hell-his-title-is, tweeted out a video to show his support to all us ladies.
Excuse me while I pick up the pieces of my exploded ovaries. My apologies if I splattered you a bit.
In the video, Trudeau states he and his wife are proud feminists and are raising their children to believe "an equal world is a better and more powerful world."
He goes on to say,
We have achieved real progress in advancing women's equality, especially in the past decades, and much of that progress is due to the tireless and passionate efforts of women.
Aw, thank you, Justin! I'll have you know I'm also capable of some, uh, other tireless and passionate efforts, if ya know what I mean.
Look, I'm not that much of a creep, OK? Twitter thirsted over the Prime Minister just as much as I did (maybe not just as much, but you get my point).
Daddy, we need some tissues ASAP.
'Scuse me, wait your turn.
*America longingly looks over at Justin Trudeau with a desperate, outstretched hand*
Some other world leaders could probably learn a thing or two from Justin Trudeau.
In a statement, the Prime Minister said Canada's theme for International Women's Day is #EqualityMatters, "which reminds us that society is better – more prosperous, peaceful, secure, and cohesive – when women's rights are respected, when women are valued and empowered, and when they lead the way in our communities."
Oops, when did all that saliva get on my shirt? Anyone have a bib I can borrow?
Citations: Statement by the Prime Minister of Canada on International Women's Day (Justin Trudeau, Prime Minister of Canada)