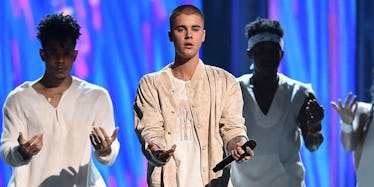 Justin Bieber Turned Down His Biggest Payday Ever Because Of LeBron James
REX/Shutterstock
Justin Bieber could have been $5 million richer last week, and all it would have cost him was 45 minutes worth of a performance.
According to TMZ, Biebs was offered that sum of money to perform in Cleveland during last week's Republican National Convention. The offer was reportedly sent to Bieber's representatives at the Creative Arts Agency (also known as CAA), and only required the artist perform at a venue near the Quicken Loans Arena, where the RNC was held, not actually in the arena.
Plus, the promoter for the event assured CAA it was "not political," TMZ reports.
Still, Justin Bieber turned the offer down, and it looks like LeBron James was a big reason, with the NBA star reportedly urging Bieber not to do the performance.
According to TMZ, the promoter looking to get Bieber on board for the RNC told the singer's reps LeBron would be in Cleveland, too. But when Bieber's camp got in touch with LeBron's, not only did they figure out LeBron wasn't going, but Bieber's people were also then advised not to take the offer by James' crew.
Bieber did end up turning down the money, despite the fact that it would have been the greatest amount he'd ever been paid for a single event.
But there were more factors. Bieber's manager, Scooter Braun, who apparently is a Clinton supporter, threatened to resign if Bieber accepted the offer. Justin's band, which TMZ says is all black, didn't want to perform at the RNC, either.
Ultimately, Justin sided with his people and turned down the millions. Guess some friendships really are priceless.
Citations: JUSTIN BIEBER SORRY, GOP ... I'M NOT FOR SALE (TMZ)